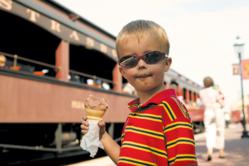 Strasburg, PA (PRWEB) April 17, 2013
Strasburg Rail Road is pleased to offer an all-new Summer Fun Pass, a value-packed ticket option for individuals and families who want more bang for their buck! The Summer Fun Pass is valid from May 25 – September 2 and includes unlimited steam train and fun extra rides.
At just $35 per person for ages 3 and older, this pass will pay for itself in just three visits, one of the best offerings from Lancaster County attractions. The Summer Fun Pass admission option also includes a 10% retail discount at the Strasburg Rail Road gift shops and access to member-only specials throughout the season.
When visiting the Rail Road this summer, visitors will enjoy many enhancements around the station including the extended Pint-sized Pufferbelly miniature steam train ride and the kid's play area (a.k.a. the parent's relaxing area with wifi!).
Strasburg Rail Road's Trackside Café is also recently renovated, with new menu offerings. Families can either grab a bite to eat at the station or ride on the Dining Car. For those who want to enjoy the countryside, pack a lunch and take the train to Groff's Grove (a picnic and play area) or the Leaman Place Grove (a second picnic area), coming soon at the end of the tracks.
About Strasburg Rail Road
Strasburg Rail Road is one of Pennsylvania's leading family attractions and is home to museum quality, working, turn-of-the century steam locomotives, freight cars, dining cars, private cars and one of the largest fleets of historic wooden passenger cars in the world. Founded in 1832, Strasburg Rail Road also holds the unique distinction as being America's oldest short line railroad.
For more information on the Strasburg Rail Road or to purchase tickets, please visit http://www.strasburgrailroad.com, or call 717.687.7522. Find us on Facebook at Facebook.com/StrasburgRailRoad and Twitter @StrasburgRR.