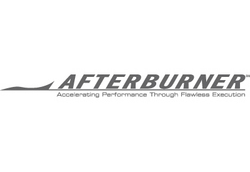 Inc. 500 List of America's Fastest Growing Companies
Atlanta, GA (PRWEB) June 2, 2009
Afterburner, an Atlanta-based team building, training, and consulting firm, announces the launch of its Embed program, which draws from the scalable, continuous improvement model known as Flawless Execution(SM). Both a strategic staffing service and a human capital development tool, Embed, via Afterburner's FLEX U (Flawless Execution University), helps elite military professionals prepare for the corporate world and accelerate their careers.
Graduates of the FLEX U human capital development program leave with an in-depth knowledge of the Flawless Execution cycle - Plan, Brief, Execute, and Debrief - and the value it equates to in the business world. Upon graduation, Afterburner's strategic staffing services place these individuals with its clients and partners, where these newly developed skills will be in high demand. Corporations learn how to align their strategies through the knowledge introduced by Embed candidates.
"Afterburner selects only the most elite military professionals to enroll in the FLEX U continuous improvement program," said James D. Murphy, CEO and founder of Afterburner, Inc. "Our primary goal is to help military men and women transition to the corporate world successfully and bring a set of organizational tools to their next job that continually accelerates business performance." For more information on Embed's strategic staffing and human capital development resources or to sign up for placement within the program, please visit http://www.afterburnerplacement.com/contact.htm.
About Afterburner, Inc.
Founded in 1996 by James D. Murphy, a U.S. Air Force fighter pilot, Afterburner, Inc.'s team of elite military professionals and military fighter pilots has trained over 1.5 million managers and executives in the simple, scalable, continuous improvement processes of Flawless Execution, a strategic quality management model developed by the company from both business experiences and strategic, tactical military execution. Through the program's Three E's - Empower, Equip, and Embed, Afterburner provides keynote speeches, its legendary "Afterburner Day" team-building experience, consulting, software services, and placing certified military professionals within its base. The company's client list includes over 23% of the U.S. Fortune 500, and has landed on Inc. Magazine's "Inc. 500 List of America's Fastest Growing Companies" twice and has been featured regularly in publications such as the Wall Street Journal and Newsweek. For more information, please visit http://www.afterburner.com.
###