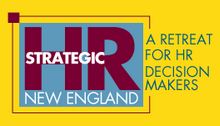 Humanic can be a great technology partner for firms looking to take their HR strategies to the next level.
Mahwah, NJ (PRWEB) October 29, 2012
Humanic Design, a leader in providing global human resources (HR) and payroll technology solutions for more than 25 years, announces It's sponsorship at Strategic HR New England, which takes place October 28-30 in Bretton Woods, New Hampshire.
At the event, attendees can learn about Humanic's strategic HR, payroll, and talent management solutions that help streamline processes and positively influence the bottom line. Humanic's solutions are designed to deliver productivity savings while enabling companies to focus more time on strategic talent management.
"We're looking forward to telling attendees how Humanic's solid technology can provide the backbone to enable their firms to implement many of the strategies discussed at the conference," said Steve Brander, VP of Sales and Business Development. "Humanic can be a great technology partner for firms looking to take their HR strategies to the next level."
Strategic HR New England, which is being held at the Omni Mount Washington Hotel, allows HR professionals to join the nation's HR thought leaders in a unique retreat experience. Attendees can participate in workshops that tap their talents for dynamic leadership, business savvy, the technology universe, and creative HR. They can also obtain 15 strategic business credits toward SPHR and PHR recerftication. Faculty at the event include Nilofer Merchant, CEO of Rubicon Consulting; Jason Averbook, CEO of Knowledge Infusion; and Margaret Morford, founder of the HR Edge, a renowned training and consulting group.
For more information about the event, visit http://www.mainehr.com/page/906/strategic-hr-new-england.
About Humanic Design
Humanic Design has been a leading provider of human resource management solutions since its inception in 1982. The company is committed to solving HR, payroll, time and attendance and talent management challenges and has supported hundreds of organizations in moving to a cohesive HR strategy. Humanic's software applications are affordable and scalable, providing feature-rich, yet easy-to-use solutions for almost any size organization. With a solid understanding of the needs of today's HRIS professionals and specific industry requirements, Humanic Design has solved human resource problems for a wide range of organizations. Humanic uses Oracle technology and offers both licensed software and software as a service (SaaS) via Humanic's SAS 70 certified data center.
To learn more about Humanic Design, visit http://www.Humanic.com call 1-855-HDDEMOS (1-855-433-3667) or follow us on social media Twitter @HumanicDesign and LinkedIn