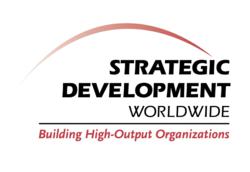 "Learning is defined differently that traditional corporate training which is typically less interactive and not usually actually applied in the daily workforce,"
San Diego, CA (Vocus/PRWEB) February 08, 2011
Mark Fulford, Ph.D., a top university professor with broad experience in training within both corporate and academic environments has been named President of the newly-formed business unit of Strategic Development Worldwide. SDW Learning is planning a major thrust into corporate online learning, as well as expanding the more traditional classroom work that SDW does as part of their current business consulting.
Strategic Development Worldwide specializes in blending the skills and experience of former CEOs, leading academics and other top business professionals to assure an advanced, yet pragmatic approach to defining business solutions for its client organizations. To learn more about SDW's business advisory services go to http://www.sdwnet.com.
Dr. Fulford's experience in corporate coaching has led him to the development of adult learning with content in leadership, human resource management and corporate culture enhancement. He has published over 20 manuscripts describing his research. Consulting Magazine named him as "One of the Top Up-and-Coming Consultants in the United States."
Don Zillioux, Ph.D., the Founder and Chairman of SDW, made the announcement today describing Dr. Fulford as "both academically prepared and Internet savvy".
" Mark is exactly the right professional at the right time to guide SDW's initiative into online learning with both the technical competence and instructional materials required to surpass anything in the marketplace today."
Dr. Fulford earned his Ph.D. in Organizational Behavior/Human Resource Management from the Kelley Graduate School of Business at Indiana University. He holds both masters and undergraduate degrees in pharmacy. He has held faculty positions with Cornell University, California State University and the University of Central Missouri. "Learning is defined differently that traditional corporate training which is typically less interactive and not usually actually applied in the daily workforce," Dr. Fulford stated. "The approach that SDW Learning takes is to provide a learning experience that managers will take back to their office and be able to immediately use for on-the-job improvement." To read more about Dr. Fulford's discussion on "Learning vs. Training", see his article on the website.
Strategic Development Worldwide, LLC was organized in 1979 to assist clients in achieving organizational excellence, value and sustainability. SDW Companies, LLC and its associated firms are currently or have been involved as consultants with major national and international companies. In addition to its industrial clients, SDW clients have included universities and schools, hospitals, food marketing chains, hotel, gaming operations and computer firms.
For more information on learning versus training, see the Business Advisory blog.
###