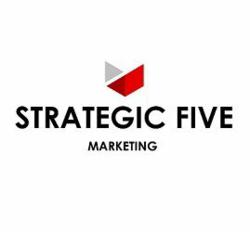 We have a brand whose business delivers a leading outsource service to exclusive clients
Birmingham, UK (PRWEB) June 04, 2013
Strategic Five Marketing have announced the launch of their modernised branding strategy, which includes a brand new logo. This is the first significant branding change Strategic Five Marketing have undertaken since the Birmingham based firm launched in 2010. 
Managing director Ben Lambert of Strategic Five Marketing says, "We have a brand whose business delivers a leading outsource service to exclusive clients, and we now have a revived and refreshed brand that lives up to those standards."
About Strategic Five Marketing: http://www.strategicfivemarketing.com
Colour is one of the most powerful non-verbal forms of communication as each colour comes with its own collection of meanings and emotions. It is because of these psychological messages and associations humans identify with colour, that makes it an essential part of the branding process. It is important for designers to choose an appropriate colour for a brand to ensure the correct messages are conveyed. Consumers can identify qualities about a company through the choice of colour used in the logo. For example, the colour green is the colour of money and envy, but also signifies the environment and Mother Earth. A company that uses green in their logo is Starbucks', which connotes the company is Earth friendly, a quality that is further supported by their use of fair trade coffee products. (http://www.businessinsider.com/branding-and-the-psychology-of-color-2012-12?op=1#ixzz2UVCUHGEp) 
Strategic Five Marketing has put a lot of thought and care into what messages they want consumers to receive about their business by using the power of colour. Ben Lambert, managing director of Strategic Five Marketing states why the firm's new logo uses a palette of red and grey. "Our objective is to convey a sense of drive, excitement, strength and victory; all of these attributes are enforced by the colour red in our logo and throughout our marketing communications. Grey and black are underlying colours used throughout our brand and were introduced to represent symbols of security, reliability and power."
The leading outsourced sales and marketing company Strategic Five Marketing assist clients with monitoring and developing their products and services to stay competitive on the market. "This new look, from logo to colour system, translates to Strategic Five Marketing's growing portfolio of high-end face-to-face sales experience, and distinctively relays our role as a premier firm in the Birmingham area," says Strategic Five Marketing's managing director, Ben Lambert. 
Strategic Five Marketing's new brand and logo is communicated through the company's website, marketing literature and multiple social media platforms in order to establish a recognisable brand that clients can identify with and trust.