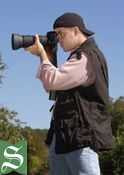 All of the fundamental theory concerning photography is covered.
Scranton, PA (PRWEB) November 30, 2012
Stratford Career Institute has added new content to their distance learning Photography course.
An entirely new module titled, "Going Pro," is dedicated to helping students learn more about operating a professional photography business in today's ever-changing technological and economic environment.
The new module helps students learn how to define their niche in the marketplace, then delves further into the importance of marketing, including how social media and search engines can help a business grow and expand. Finally, the module covers personal networking strategies, business expansion, outsourcing and more.
Prior to this module, Stratford photography students study the history and fundamental components of photography, then work on learning modern day technique in both print and digital photography.
Stratford officials say that even if someone doesn't have a camera, they can still benefit from taking the course. "All of the fundamental theory concerning photography is covered. Since Stratford students get to keep all of the course materials, what they have learned can always be applied at a later time," said Dr. Claude Major, Director of Education for Stratford Career Institute.
Dr. Major added that upon graduating from this course, students are well-prepared to take the first step toward a variety of photography jobs in a array of settings.
Individuals interested in learning more about the Stratford Career Institute's Photography course can request a free career information packet by calling 1-800-254-4070 ext 9980 or by visiting the school's website scitraining.com.
Similar to Stratford's popular high school diploma program, the Photography course is completed through guided, independent study. Students complete lessons at home on their own time, and submit exams online, through the mail, or in combination. Instructors are available via e-mail and toll-free phone and students have access to an online student center.
About Stratford Career Institute
Stratford Career Institute is a distance learning correspondence school that employs a distinct educational training method allowing students to complete their studies and earn their career diploma at home rather than spending hours in a classroom. Contemporary online tools combined with traditional correspondence education give students the flexibility to study when it is convenient for them. Stratford Career Institute offers more than 60 distance learning courses in a variety of contemporary career fields.