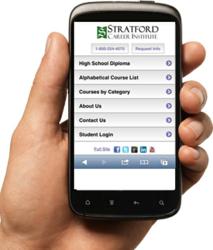 We saw more than a 90% increase in the number of visits to our website with a mobile device...
Scranton, Pa. (PRWEB) January 27, 2013
Distance learning school Stratford Career Institute has launched a new mobile website, http://m.scitraining.com.
Stratford Career Institute created the new, mobile website as a means to accommodate an increasing number of individuals using mobile phones to access the internet.
"We saw more than a 90% increase in the number of visits to our website with a mobile device from 2011 to 2012. It was obvious that a mobile site would be an asset to our prospective and current students," said Michael Boulay, Vice President of Student Services for Stratford Career Institute.
Stratford Career Institute says the site is meant to be easy to navigate and has information on all 63 of Stratford's career training courses, as well as information about the school and more. Individuals can request free information packets, access the student login, and enroll online using their mobile phone.
"The mobile site offers an abridged version of what individuals will find on our standard site. It offers the same quality information, but in a more succinct, mobile-friendly package," added Mr. Boulay.
Stratford says the mobile website also has a link to the full website should visitors be interested in gaining more in-depth course information.
Anyone interested in learning more about Stratford Career Institute's distance learning courses can request a free career information packet by calling 1-800-254-4070 ext 9980 or by visiting the school's website scitraining.com.
All of Stratford's courses, including the popular high school diploma program, are completed through guided, independent study. Students complete lessons at home on their own time, and submit exams online, through the mail, or in combination. Instructors are available via e-mail and toll-free phone and students have access to an online student center.
About Stratford Career Institute
Stratford Career Institute is a distance learning correspondence school that employs a distinct educational training method allowing students to complete their studies and earn their career diploma at home rather than spending hours in a classroom. Contemporary online tools combined with traditional correspondence education and ongoing instructor support allow students the flexibility to study when it is convenient for them. Stratford Career Institute offers more than 60 distance learning courses in a variety of contemporary career fields.