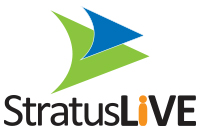 ...we have been searching for a software solution that would allow us to keep pace with our mission of 'Fighting Hunger…Feeding Hope'.

Rodney Bivens, executive director and founder of the Regional Food Bank
Virginia Beach, VA and Oklahoma City, OK (PRWEB) April 25, 2013
Today, StratusLIVE, LLC is pleased to announce the Regional Food Bank of Oklahoma has selected StratusLIVE for Fundraisers as their comprehensive, Constituent Relationship Management (CRM) focused donor management and fundraising software solution for the future.
"The Regional Food Bank is conscientious about being good stewards of our donor's gifts, and as such, we have been searching for a software solution that would allow us to keep pace with our mission of 'Fighting Hunger…Feeding Hope,'" said Rodney Bivens, executive director and founder of the Regional Food Bank. "After testing several options and narrowing the field, we ultimately chose StratusLIVE because of its powerful Microsoft Dynamic CRM platform, comprehensive features, exciting roadmap for future enhancements, and outstanding customer service."
"We are delighted to have the Regional Food Bank of Oklahoma join our growing list of customers," said Jim Funari, StratusLIVE CEO. "At StratusLIVE, our drive for excellence is inspired by the work of great nonprofits that are making the world a better place. We are excited to support the Regional Food Bank of Oklahoma's commitment to helping others."
"Excellent relationship management is crucial to our work," said Bivens. "Because StratusLIVE is built on Microsoft Dynamics CRM 2011, relationships are at the heart of the software. Because StratusLIVE has native integration to Outlook, Office, and other Microsoft products, our staff is already familiar with the interface. Their extensive knowledge of what nonprofits need to be successful is apparent in how the StratusLIVE team communicates and builds their software."
"In working with the Regional Food Bank of Oklahoma, we were immediately impressed with their focus and leadership in the food bank community," said Mike Trainor, StratusLIVE president. "Rodney and his team have been providing care in their community for decades and we consider it a privilege to have been selected to support their work. We have seen StratusLIVE software help increase productivity and efficiency over and over with our clients and look forward to serving alongside the Regional Food Bank of Oklahoma bringing hope, in the form of food, to those in need."
About the Regional Food Bank of Oklahoma
Established in 1980, the Regional Food Bank is the largest private hunger-relief organization in the state of Oklahoma. In Fiscal Year 2012, the Regional Food Bank of Oklahoma distributed 42.2 million pounds of food and product through a network of nearly 1,000 partner agencies and schools throughout 53 central and western Oklahoma counties.
The Regional Food Bank provides enough food to feed more than 90,000 people each week – nearly half of whom are children.
For ways to support and more information about the Regional Food Bank of Oklahoma, please visit http://www.regionalfoodbank.org/.
About StratusLIVE, LLC
StratusLIVE provides comprehensive, SaaS based, mobile, social, fundraising, and nonprofit management software focused on constituent relationship management (CRM). StratusLIVE software leverages the power of the Microsoft Dynamics CRM platform and is delivered through familiar Microsoft Outlook, mobile devices, and web browser interfaces. The result is a cost-effective, familiar, and easy to use donor management solution, which ensures a low-risk, high-productivity investment for any nonprofit.
For more information about StratusLIVE, please visit http://www.stratuslive.com.
StratusLIVE Newsletter Sign Up
Contact
Chris Johnson
StratusLIVE
757-273-6324