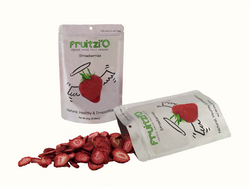 Based on customer feedback, we developed the new FruitziO product line to pack more fruit into a handy, resealable bag
Fairfield, N.J. (PRWEB) June 29, 2009
Crispy Green Inc., the maker of Crispy Green® Crispy Fruit premium, freeze-dried fruit snacks, today unveiled its new FruitziO line of freeze-dried fruit snacks with the debut of Strawberry FruitziO, the first product in the company's exciting, new innovative product line at the 55th Summer Fancy Food Show in New York.
Strawberry FruitziO is a light, sweet and crunchy snack that kids and adults alike can enjoy anytime, anywhere. Made with only the finest freeze-dried strawberries - with just a hint of sugar - Strawberry FruitziO is sweet to the taste for a natural, healthy and irresistible fruit snack. Strawberry FruitziO is a fun and delicious way to add more fruit to your family's everyday diet.
All-natural Strawberry FruitziO contain no preservatives (including sulfides), fat, cholesterol or sodium and is peanut/tree nut free, gluten-free, dairy free and is certified kosher by Shatz Kosher Services.
Strawberry FruitziO is available in moisture-free, resealable 25g pouches and contain approximately one cup of sweet strawberries. Each serving of Strawberry FruitziO is just 100 calories and provides 110% of the daily-recommended amount of vitamin C.
Fruit 'On Demand'
Strawberry FruitziO is the perfect snack for kids, tweens and adults alike and the crunchy texture of FruitziO make it fun to eat. FruitziO's convenient resealable pouches, long shelf life and portability make the product the ideal 'go anywhere' snack to take in the car, keep in a backpack, briefcase or luggage to enjoy on vacations, camping trips, shopping trips, a day at the beach, etc., to provide the natural goodness of a fruit snack at your fingertips at any time.
"Based on customer feedback, we developed the new FruitziO product line to pack more fruit into a handy, resealable bag," says Angela Liu, President and Founder of Crispy Green. "We chose strawberry as our first flavor for our new product line because they are the favorite fruit of both kids and adults alike and people of all ages enjoy our wholesome snacks."
Strawberry FruitziO can be found in the produce and grocery aisles of many leading supermarkets and natural and specialty food stores located throughout the United States at a suggested retail price of $3.75. FruitziO can also be purchased from Crispy Green's online store at http://www.crispygreen.com/fruitzio/fruitzio-strawberries.html.
FruitziO can also be purchased online at http://www.amazon.com.
To find a Crispy Green retailer in your area, go to http://www.crispygreen.com/where-to-buy.html.
Look for more delicious flavors of FruitziO coming soon.
For more information about Strawberry FruitziO, please visit the Crispy Green Web site at http://www.crispygreen.com.
About Crispy Green
Crispy Green Inc. (http://www.crispygreen.com) is the maker of Crispy Green Crispy Fruit freeze-dried fruit snacks and the new line of FruitziO freeze-dried fruit snacks. The company was founded in August 2004 with a vision to be the leading provider of high quality, natural food products desired by everyone who wants to live a healthy and better life.
The Crispy Fruit and FruitziO line of snacks are made of only the finest fruits available. A sophisticated freeze-drying process removes the water from fresh, sweet fruit, leaving behind the fruit's true essence in a light and crispy texture that's perfect for snacking. Crispy Green's line of Crispy Fruit and FruitziO are a delicious, convenient way to add more fruit to your daily diet.
In 2005, Crispy Green introduced its line of Crispy Fruit in the United States. Since then, Crispy Green has been adding one new product each year to its Crispy Fruit product line to meet its rapidly growing distribution footprint. In 2009, Crispy Green launched Strawberry FruitziO, its first product in its new line of FruitziO freeze-dried fruit snacks.
# # #