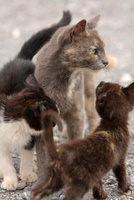 The spring is when most litters of kittens are born.
Bethesda (Vocus) March 10, 2010
As winter winds down and "kitten season" approaches, it is important to get educated about what to do if you come across a litter of kittens outdoors, according to Alley Cat Allies, the national advocate for stray and feral cats.
"The spring is when most litters of kittens are born," said Becky Robinson, president of Alley Cat Allies. "Should you come across kittens, you may be tempted to pick them up and bring them home with you, but that might not be in the best interest of the kittens."
Deciding what to do when you find kittens depends on a number of variables, said Robinson. She suggests the following steps:
Determine the kittens' age. If kittens are not exposed to or handled by people in their first weeks, they will not be socialized and cannot be adopted as pets. These feral cats will prefer to live their lives outdoors, in family groups called colonies. Check Alley Cat Allies' online guide to kitten progression (http://www.alleycat.org/KittenProgression) to help establish the age of the kitten.
Find out whether a mother cat is caring for the kittens. "If the kittens are alone when you find them, they could be abandoned, or the mother could simply be looking for food," Robinson noted. "Wait and observe from a distance for an hour or two."
If the mother cat does not return, determine if the kittens are young enough to be socialized, or if they should be trapped, neutered, and returned to the site. Note that if the kittens are not yet weaned, they will require bottle-feeding and round-the-clock care.
If the mother does come back, keep in mind that her care is best for the kittens, and they should remain with her until they are weaned. If she is friendly, trap her, pick up the kittens, and bring the whole family indoors to a confined area until the kittens are old enough to be adopted. If the mother is feral, leave the family outside and provide shelter, food, and water. Once the kittens are weaned, place them in foster care for adoption.
Neuter to ensure no more kittens. "The best way to help stray and feral cats is to end the breeding cycle through Trap-Neuter-Return," said Robinson. "The cats are humanely trapped and taken to a veterinary hospital or spay/neuter clinic to be vaccinated and neutered. Socialized cats and young kittens are put up for adoption. Feral cats are 'eartipped' and returned to their colony."
Visitors to http://www.alleycat.org can find more information about caring for and socializing kittens, as well as tips on starting a Trap-Neuter-Return program and connecting with Feral Friends—local individuals, groups, and veterinarians who will be able to help.
###