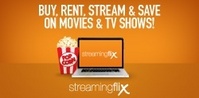 Movie lovers can browse movies in theatres and on DVD, and then get tickets, DVDs or instantly stream – all in one place.
Las Vegas, NV (PRWEB) October 11, 2010
Streaming Flix, the newest online video entertainment destination, today announced the addition of the local movie showtimes, trailers, box office information and an actor directory to its streaming, rental and retail services. Movie lovers can now access everything they need to decide what movie to see, where to see it, and then purchase movie tickets, DVDs or instantly stream movies – all in one convenient location.
Through an agreement with Tribune Media Services, the leading provider of entertainment information, Streaming Flix offers a comprehensive movie guide on current and upcoming releases, as well as top box office hits, for more than 16,000 screens and 6,000 theatres nationwide. To get a taste of the movie experience, users can watch trailers, read the plot, view cast and crew photos and profiles, and review the weekly box office rankings. For the movie enthusiasts, entertainment news and Hollywood highlights are delivered weekly by the Streaming Flix blog.
"Streaming Flix is excited to be able to expand," said Anya Chernyshova, Streaming Flix Brand Manager. "With the addition of the theatrical movie and actor content, news and editorial reviews, we are thrilled to offer Streaming Flix customers a one-stop shop for all of their TV and film entertainment needs."
Since its inception in August 2009, Streaming Flix has been focused on expanding its selection of streaming, DVD/Blu-ray and download-to-rent/own titles, integrating the latest digital content delivery technology, and adding resources such as movies in theaters and entertainment news.
About Streaming Flix
Streaming Flix is an online video entertainment network that provides consumers with access to movies and TV shows to stream, rent and buy on their PC, mobile device, or TV. The growing Streaming Flix video library includes over 5,000 DVD, Blu-ray and streaming titles, as well as access to 14,000 digital downloads. For a monthly subscription fee, VIP Members can stream unlimited movies from Premium Channels including National Lampoon and NoGoodTV. Founded in 2009, Streaming Flix LLC is headquartered in Las Vegas, Nevada.
For more information, visit http://www.streamingflix.com today or join them on Facebook, Twitter or YouTube.
# # #