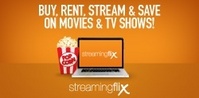 Las Vegas, NV (PRWEB) November 15, 2010
Streaming Flix, the newest online video entertainment destination, attended the 2010 American Film Market, one of the biggest and most dynamic film markets around the world, that took place on Nov 3-10 in Santa Monica, CA. This year's upbeat event attracted almost 8,000 independent motion picture industry leaders from more than 70 countries.
The American Film Market attracts more than 400 independent film and television program distributors, making it a must-attend trade event for Streaming Flix. The company's acquisition, business development and marketing representatives met with executives from leading independent US and international film companies to discuss online and mobile content distribution deals.
"Our participation in the American Film Market is key to our movie, TV show and themed streaming content acquisition efforts," said Mary Scundi, who heads up Business Development at Streaming Flix. "Independent film titles will help strengthen our content library and position us as the leader in genre-specific, niche video entertainment, creating a unique consumer value proposition."
The AFM is an annual marketplace produced by the Independent Film & Television Alliance (IFTA), the trade association representing the world's producers and distributors of independent motion pictures and television programs. Many of the 427 films that appeared at the 2010 event were world premieres and are already generating Oscar buzz.
Streaming Flix made many introductions and promising connections at the 2010 AFM, and expects to begin adding new video content to its online portal very soon. Content owners, independent studios and distributors who missed Streaming Flix at the AFM and are interested in becoming a partner can email acquisitions(at)steamingflix(dot)com or visit http://www.streamingflix.com/content-providers/.
About Streaming Flix
Streaming Flix is an online video entertainment site that provides consumers with access to movies and TV shows to stream, rent and buy on their PC, mobile device, or TV. The growing Streaming Flix video library includes over 5,000 DVD, Blu-ray and streaming titles, as well as access to 14,000 digital downloads. For a monthly subscription fee, VIP Members can stream unlimited movies from Premium Channels including National Lampoon, NoGoodTV and KOAN. Founded in 2009, Streaming Flix LLC is headquartered in Las Vegas, Nevada.
For more information, visit Streaming Flix today or join them on Facebook, Twitter, YouTube, or LinkedIn.
# # #