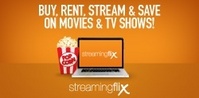 KOAN's family-friendly films are a valuable addition to the Streaming Flix premium content library.
Las Vegas, NV (PRWEB) October 27, 2010
Streaming Flix, the newest online video entertainment destination, today announced the addition of the new Premium Channel from KOAN to its premium streaming content library. KOAN's family-friendly movies and feature films in various genres including action, comedy, drama and horror are now available for unlimited streaming to Streaming Flix subscribers at http://koan.streamingflix.com.
KOAN, an international distribution company that works with independent movie producers, established a strong presence in the fields of family entertainment and award winning feature films over the last 17 years. It is well known for quality programming and has an impressive catalog of over 70 films and hundreds of hours of documentary and animations. Streaming Flix VIP Members can stream KOAN features such as 'Saints and Soldiers,' adventure and sci-fi films like 'Dragon Hunter', drama movies such as 'The Fallen', and family flicks including 'A Dog's Tale' and 'Bug Off.'
Streaming Flix VIP Membership, with a monthly subscription fee of $9.99 if paid with a credit card or $14.95 if added to the home phone bill, offers unlimited streaming from all of its Premium Channels. Currently, the channel selection includes the new multi-genre entertainment collection from KOAN, comedy films and videos from National Lampoon, and uncut celebrity interviews and entertainment from NoGoodTV.
"We are very pleased to have a licensing agreement with a premier independent distributor such as KOAN," said Ben Chang, VP of Acquisitions at Streaming Flix. "Their growing feature, animation and documentary catalog is a valuable addition to our streaming library and will provide hours of superb family entertainment to our customers."
Since its inception in August 2009, Streaming Flix has been focused on expanding its selection of streaming, DVD/Blu-ray and download-to-rent/own titles. Content owners, independent studios and distributors interested in featuring their content on Streaming Flix can email acquisitions(at)steamingflix(dot)com or visit http://www.streamingflix.com/content-providers/.
About Streaming Flix
Streaming Flix is an online video entertainment site that provides consumers with access to movies and TV shows to stream, rent and buy on their PC, mobile device, or TV. The growing Streaming Flix video library includes over 5,000 DVD, Blu-ray and streaming titles, as well as access to 14,000 digital downloads. For a monthly subscription fee, VIP Members can stream unlimited movies from Premium Channels including National Lampoon, NoGoodTV and KOAN. Founded in 2009, Streaming Flix LLC is headquartered in Las Vegas, Nevada.
For more information, visit http://www.streamingflix.com today or join them on Facebook, Twitter or YouTube.
# # #