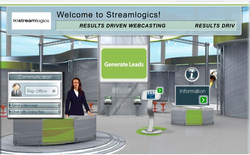 By partnering with Unisfair, Streamlogics now offers an integrated solution which provides best-in-breed virtual event technology coupled with our flagship webcasting platform
Toronto, Ontario (PRWEB) March 6, 2009
Streamlogics Inc., a leading global provider of results-driven webcasting solutions, today announced the launch of Streamlogics' Virtual Events, in partnership with Unisfair. By combining Unisfair's best in class virtual events environment with Streamlogics' webcasting platform, organizations can now provide streaming audio and video as part of their virtual events to make them more engaging and lifelike. Participants require nothing more than a web browser and an internet connection to get the full immersive event experience. Virtual events are currently being used for a wide range of applications including tradeshows, online marketing events, job fairs and training forums.
In a recent poll by Meetings and Conventions Magazine, 88% of respondents indicated their organizations would be reducing travel budgets in 2009. Streamlogics' Virtual Events provide a more cost-effective, environmentally responsible alternative to exhibiting or attending traditional tradeshows for companies who need to cut travel and marketing budgets. The regional, national or even international reach of a virtual event means that travel is no longer an obstacle to exhibitors or attendees, and the ability to use live video and audio makes the virtual environment as engaging and interactive as a face to face meeting. According to a survey conducted by the FactPoint Group and sponsored by Unisfair, virtual events attract an average of 15 exhibitors and 1,500 participants per event, with each attendee participating online for an average of over 2.5 hours.
Key features offered by Streamlogics' Virtual Events include:
-Live and On-Demand Webcasts: To deliver keynotes and vendor presentations within virtual environments
-Professional Networking: Attendees can upload, modify and publish their professional profiles. The Professional Networking tool searches the virtual environment and delivers recommendations on others who have similar business interests based on certain criteria.
-Interactive features: Includes live Q&A and product demos, as well as the ability chat with booth representatives or other attendees.
-E-commerce Integration: Allows event organizers to generate revenue by charging admission to events or to specific locations such as keynote presentations.
-Data Capture and Management: Provides seamless integration with third-party solutions including automation tools such as SalesForce.com and virtual hosts.
"By partnering with Unisfair, Streamlogics now offers an integrated solution which provides best-in-breed virtual event technology coupled with our flagship webcasting platform" said Shaun McIver, President and CEO of Streamlogics. "We look forward to rolling out this exciting offering to our customers for a wide range of applications".
"Unisfair is proud to announce its partnership with Streamlogics, a leading provider of webcasting solutions" said Stu Schmidt, Vice President of Global Sales and Services at Unisfair. "Streamlogics has always been an innovator in results-oriented webcasting and we're excited about the opportunity to work closely with them as they expand into virtual events."
Backed by the highest quality of service in the industry, Streamlogics' Virtual Events provide participants with a live, highly interactive online experience, while offering a viable alternative for companies looking to expand their marketing efforts without the expense and environmental impact of a traditional conference or event. For more information or to schedule a demo, visit http://www.streamlogics.com/solutions_virtual_events.asp.
About Streamlogics
Streamlogics is a leading global provider of results-driven webcasting solutions for hundreds of enterprises across several verticals including financial services and healthcare and life sciences. Streamlogics' webcasting solutions are utilized for training and certification, marketing and lead generation, and corporate communications. Founded in 1999, Streamlogics is based in Toronto, with regional offices throughout North America. The company also supports a global network of value added resellers. For more information please visit http://www.streamlogics.com
About Unisfair
Unisfair powers the world's virtual events and virtual business environments. Virtual events and business environments are used for marketing, recruiting and training purposes. If it can be done physically, Unisfair can replicate it virtually - with superior return on investment. The company has powered over 550 successful virtual events for Fortune 1000 corporations, media and publishing companies, event organizers and health care organizations. Unisfair is privately held and backed by Sequoia Capital and Norwest Venture Partners with headquarters in Menlo Park, California and offices in New York and Israel. For more information please visit http://www.unisfair.com
###