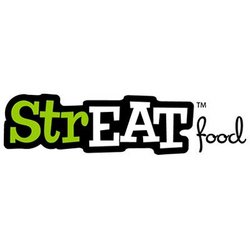 "We hope that soon people will come to recognize our large trailer and start to salivate."
Ferndale, WA (Vocus) September 8, 2010
StrEAT Food, http://streatfood.me, is proud to announce it is launching its new business, literally. The StrEAT Food mobile kitchen is hitting the road full tilt boogie, cooking up delectable gourmet breakfasts and lunches from various places in Western Washington.
The business, based out of Ferndale, WA, just north of Bellingham, is the concept of James Pitzer. James is a Texas Culinary Academy graduate, whose resume includes highly rated restaurants in Dallas like The Green Room, Stone Trail, and Breadwinners and Ancho's in the Omni Austin Hotel. Locally, he has cooked at the Lakeway Inn, Scotty Browns and the Hilltop.
"The menus are driven by what is fresh and in season," says James. "In Washington, we are surrounded by a surplus of high quality ingredients that totally inspire me. And I come from a small town in Texas where breakfast tacos rule. So it seemed natural to use the tortilla as a vessel for StrEAT Food."
Since the menus change constantly, James with the help of his wife, Poem, a talented graphic artist with some hefty online marketing credentials, have turned to social media to get the word out. They're posting updates daily on Facebook, Twitter and their blog to advertise the breakfast and lunch menus and to let people know where the StrEAT Food trailer will be that day.
"We are working on finding locations where we can regularly park the StrEAT trailer, so we can expose people all over the area to what we believe is a completely unique, fresh, gourmet, reasonably priced, and -- if I say so myself – yummy experience!" says James.
Here's just a taste of StrEAT Food selections off one of the recent lunch menus:

Seared New York Strip Taco with cheddar grits, whole grain mustard BBQ sauce, and grilled scallions
Yellow Coconut Curry Chicken Taco with couscous, roasted tomato, spinach, and cilantro
"Ratatouille" Taco with red pepper basmati and queso fresco
Chopped Pork Sandwich with gala apple slaw, horseradish mayonnaise and french fries
Falafel Pita with cabbage, spinach, tomato, onion, feta, tzatziki sauce, and french fries
Veggie Banh Mi -- baguette, tofu, lemongrass, pickled daikon, pickled carrot, cucumber, mint, cilantro and vegan mayo
StrEAT Burger -- bacon, arugula, onion jam, grilled tomato and gouda
Soup of the Day -- Coconut milk, red curry, shiitake and fried rice noodle
"We hope that soon people will come to recognize our large trailer and start to salivate," says Poem. "James' food will do that to people!"
StrEAT Food also caters. Whether it's a back yard BBQ, parking lot taco party, gallery opening with hors d'oeuvres, or a five course meal, Chef James will be happy to design a menu to make the occasion perfect. Contact 360-927-0011 or email streatfood(at)gmail(dot)com.
Contact:
James Pitzer
360-927-0011
streatfood(at)gmail(dot)com
# # #