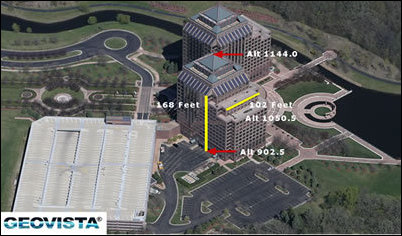 Any Aspect Passive Volumetric Image Processing Method
Minneapolis, MN (PRWEB) April 4, 2007
GEOSPAN Corporation announced today that US Patent Application No. 20020191838 - "Any Aspect Passive Volumetric Image Processing Method" has been allowed by the US Patent Office. The patent is pending in Japan, Europe, Australia, and Canada. The new patent combines with GEOSPAN's US Patent Number 5,633,946 issued in 1997 to form the intellectual property foundation of next-generation, real-world image processing. This new patent moves GEOSPAN beyond GEOVISTA® Multi-Angle Imaging™ to GEOVISTA® 3D Spatial Imaging™.
"GEOSPAN now holds multiple key United States patents in the geospatial imaging industry and our GEOVISTA technology is changing the way people and companies inventory real assets, plan trips, dispatch emergency vehicles, make infrastructure decisions, and shop for homes," says Ted Lachinski, President of GEOSPAN. "Consider the benefit of being able to virtually fly and drive through any city without leaving the comfort of your office. This new 3D Spatial Imaging technology moves us one step closer to Virtual Presence" - concludes Lachinski.
GEOVISTA Multi-Angle Imaging technology, pioneered by GEOSPAN in the early 1990's, is used to capture spatially accurate imagery under US Patent Number 5,633,946. This key geospatial patent describes the method and apparatus for collecting direct georeferenced imagery and a survey technique now known as Direct Image Photogrammetric Measurement using multiple "Any Aspect" cameras. The Company has obtained patent protection for this intellectual property in Australia, Canada, and Europe.
Direct Image Photogrammetric Measurement uses advanced georeferenced (orientation and GPS-enabled) camera technology for surveying. The concept implements rapid close range surveys with multiple high-resolution cameras to obtain both detail and accuracy with minimum ground control. Image position and orientation data is captured in real time at the same instant the images are captured. Hence, a database of these survey ready images can be accessed at the desktop where any object can be measured and its 3D real-world position accurately reported and inventoried. The capability to capture and survey massive amounts of visual information from the air and ground is viewed by the GIS (Geographic Information System) community as a vital step to eliminating the GIS data bottleneck.
The new GEOVISTA 3D Spatial Imaging technology further automates the generation of real-world 3D coordinates by transforming "Any Aspect" images into stereo pairs for autocorrelation of pixels. This technology simplifies "direct image measurement" by auto-correlation of the pixels from multiple images.
The combined patents allow GEOSPAN's customers to significantly lower the cost of acquiring spatially accurate imagery. Traditional products rely on multiple flights and/or tedious reverse engineering camera orientation for each photo to obtain the accuracy required to serve multiple markets. While there are other ways to collect less accurate visual information, GEOSPAN holds the key patents that provide quantitative virtual presence sufficiently accurate to automate the production of traditional Photogrammetric NMAS (National Map Accuracy Standards) products such as orthophotography, digital terrain models, and oblique imagery - all from the same flight. Further, the same technology is currently used to gather and integrate panoramic street-level imagery for convenient desktop viewing and analysis. The accuracy of GEOVISTA imagery provides GEOSPAN with the unique ability to become the sole source of integrated aerial and street-level imagery sufficiently accurate to serve multiple markets.
For further information please visit http://www.geospan.com or call Ted Lachinski at 1-800-GEOSPAN (1-800-436-7726).
GEOSPAN is the provider of the technology leading spatially accurate GEOVISTA® Multi-Angle Imagery™ and GEOVISTA® 3D Spatial Imagery™ products. GEOSPAN patented technology offers fully integrated high-resolution 360º oblique aerial and street-level GEOVISTA imagery. GEOVISTA panoramic imagery solutions support a variety of state and local government GIS applications including E9-1-1, emergency management, homeland security, law enforcement, planning, property assessing, infrastructure inventory, pavement analysis, and transportation. GEOVISTA solutions also serve a variety of private sector markets including real estate buying and selling, visual mapping, insurance, mortgage lending and micro marketing.
Contact:
Ted Lachinski, President
GEOSPAN Corporation
1-800-436-7726
http://www.geospan.com
###