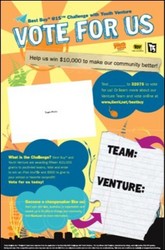 Boston, MA (PRWEB) February 17, 2009
Street Attack's latest campaign for the first-ever Best Buy @15 Challenge cracked the code on empowering youth, while providing a voice for socially minded teens through a digital and mobile platform. Ashoka's Youth Venture, a global network of young social entrepreneurs, and Best Buy Co., Inc selected 30 finalists from business plans submitted by active Youth Venture Teams across the country. Street Attack created a digital and grassroots marketing strategy to build buzz and encourage youth to log their votes. Throughout the six week challenge, more than 150,000 votes were recorded, exceeding the program's goals seven fold and showcasing Street Attack's expertise at fusing creative grassroots marketing techniques with digital culture.
Charged with the task of creating awareness for the competition and encouraging teens to vote for their peers, Street Attack designed a campaign to compliment the digital lifestyle of today's youth. As well as creating grassroots "tool kits" (including posters, handbills, viral tools and email forms) which enabled finalists to spread the word themselves, Street Attack also established a variety of digital, youth-centric platforms that produced a genuine buzz around the @15 Challenge.
For the "Net Generation" SMS messaging has long been a familiar and well used means of communication. Street Attack created a "text to vote" platform and a WAP portal in order to take advantage of teens willingness to experiment with and use new media technologies. These innovative tools allowed teens to vote via text and the web from their mobile phones. Street Attack not only recognized but also successfully tapped into this latest trend in youth marketing, with SMS messaging accounting for 30% of the total votes.
Teens were also encouraged to use other popular digital platforms to conduct their own marketing campaigns. Street Attack built a grassroots web portal for competitors, and enabled youth to harness the power of social networking sites such as MySpace and Facebook by designing and implementing badges announcing a call to action.
"We've always been a grassroots-minded agency," says Terry Lozoff, President of Street Attack. "However, with the technology and social media tools that can be harnessed today, grassroots has never been so powerful. Viral buzz spurs from a true and authentic product or message. These Youth Venture teams are the essence of that. Our job at Street Attack is to understand how this message can be best spread, and create programs that empower those involved to be as instrumental in the movement as possible."
Through their work for Ashoka Youth Venture and Best Buy's @15 Challenge, Street Attack once again demonstrated their ability to create and execute successful alternative marketing programs that fuse the offline and digital worlds. By capitalizing on the latest trends relevant to today's youth, Street Attack lead the @15 challenge toward success, and continues to chart ahead as a premier alternative and digital marketing agency.
About Street Attack:
Based in Boston, MA, Street Attack is a leading alternative and digital marketing agency. Since 2001, the company has provided successful strategy, creative and nationwide execution for consumer facing companies and web-based businesses. Street Attack specializes in word-of-mouth/buzz/grassroots marketing campaigns, digital/interactive and viral/social media marketing services, promotional programs, event marketing and production, and alternative/guerrilla activations. Street Attack also produces CHOICE, a publication and blog covering the latest trends and highlights in the worlds of marketing, media and digital.
###