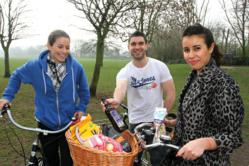 A tidy-up can be a great way to meet your neighbours and make new friends at the same time as doing something to improve the place you call home.
London (PRWEB UK) 3 April 2013
Official statistics show a resurgence in volunteering, with millions more Britons giving their time to help improve their local community than in previous years*.
In a YouGov study commissioned by Streetlife, three out of four people agreed that by working together, neighbours can positively impact their local community. Improving the local environment was the most popular suggestion for public action, with 42% of respondents saying that removing litter and graffiti, and taking better care of communal spaces, would enhance their sense of local pride.
The benefits of community clean-ups go beyond aesthetic improvements. Helen Bingham from Keep Britain Tidy explains that a tidy up is "a great way to meet your neighbours and make new friends at the same time as doing something to improve the place you call home." Getting together with like-minded people to take action can be very rewarding, and has even been linked to reduced crime and antisocial behaviour in local communities.
Organise it online
Streetlife, the local social network, provides a free and simple place for residents, voluntary groups, local government representatives and businesses to discuss and improve their area.
Communities across the country use the website to plan and promote litter picks, gardening projects and clean-ups, from rivers and beaches to local parks and retail areas. One in eight streetlife.com users report that they have campaigned or volunteered for a local cause they discovered online.**
Mercedes Bell describes how she used streetlife.com to organise a litter pick with her neighbours: "They were having a grumble about litter, and I suggested we roll up our sleeves and do something about it. We all care about our local environment, and we want our neighbourhoods to be nice, safe and clean. We got to meet some friendly faces and left with a sense of achievement... Definitely something we'll repeat!"
Get involved

Discuss the local issues you care about with your neighbours, and suggest and promote community action projects at http://www.streetlife.com
Request a free kit with advice and equipment for your community clean-up from Keep Britain Tidy's 'Big Tidy Up' campaign at http://www.thebigtidyup.org
=== ENDS ===
*Source: The Cabinet Office, February 2013, reported a 6% increase in the proportion of people volunteering in the past year, and an even bigger rise (9%) in those volunteering regularly.
**Source: streetlife.com user survey, January 2013.
--------------------
About streetlife.com
streetlife.com, the local social network, has a simple aim: to help people across Britain make the most of where they live by connecting and sharing with their neighbours. The website provides a free and easy place for residents, community groups, local government representatives and businesses to share practical information, advice, skills and resources.
The Streetlife team believes that better connected neighbours build stronger communities, and that digital media has a key role to play in bringing together people with busy routines or reduced mobility, to discuss and improve the local issues they care about.
Main uses of the site include:

discussing nearby news, crime, planning proposals and public services
finding locals with common interests, organising and attending social groups and events
sharing skills and belonging with neighbours, from hedge-trimmers to spreadsheet skills
recommending and discovering local businesses and tradespeople
promoting, campaigning and volunteering for community projects and local causes
--------------------