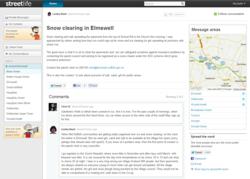 Seeing people sharing information and helping their neighbours out is a lovely reminder that I'm part of a supportive, friendly community.
London (PRWEB UK) 18 January 2013
As wintry weather sweeps the nation, local communities are coming together on streetlife.com to organise snow-clearing initiatives, share warnings about hazardous roads and icy pavements, and offer to collect groceries for more vulnerable or isolated neighbours.
streetlife.com provides a free and simple place for residents, groups, council representatives and businesses to discuss local issues, share practical information and advice. A survey of streetlife.com users this week revealed that 3 out of 4* users have had more contact with their neighbours as a result of joining the local social network. And as the cold weather takes grip, the benefits of connecting with neighbours become even more evident.
Local authorities, voluntary support teams and independent care providers are making a big effort, but there are plenty of additional ways in which neighbours can help one another. Norfolk Streetlife user, Bob B., posted a reminder that "The ice and snow look wonderful, but for some people it does present a barrier to everyday life. If you are able bodied, please don't forget those that are not so lucky… Use this forum to stay in touch!"
Just knowing that someone nearby is there to help if necessary can ease anxiety for the elderly and more vulnerable. Claire Cheshire wrote "Knowing there are locals I can connect to on Streetlife really helps restore my faith in the community."
As the snow eases across many areas, ice is expected to become the main hazard over the weekend, and the Met Office has issued yellow warnings across much of Britain.
In neighbourhoods across the country, people are taking to streetlife.com to share warnings about dangerous local roads and icy pavements, and organising communal clear-ups. In London, Sandra S. writes "Let's make a joint effort to clear the snow! Come on people, let's see the civic pride we saw during the riots!"
Another keen contributor, Emma Osborne, explains that Streetlife is strengthening neighbourly bonds: "Seeing people sharing information and helping their neighbours out is a lovely reminder that I'm part of a supportive, friendly community."
How streetlife.com can help in your local area:

share warnings about dangerous roads and icy pavements, to help your neighbours avoid injury
spread the word about local areas that have been gritted and cleared, so people know it's safe to venture out
organise a "shovel share" scheme, whereby neighbours work together to keep pavements clear of ice
post information about where you can stock up on sand, grit and salt locally
ask if anyone in your local community needs basic food provisions or prescription medication to be collected for them
offer spare blankets or heaters to neighbours who might be suffering in the cold
share photos of local landscapes and memories of previous winters with neighbours
suggest a meeting at the local park to go sledging or build a snowman and get to know a few friendly neighbours.
Find out more and join the conversation where you live, at http://www.streetlife.com.
*77% of users say streetlife.com has encouraged them to have more contact with local people. Figures are from streetlife.com user survey, total sample size 1,103 adults. Survey carried out online between 10th and 17th January 2013.