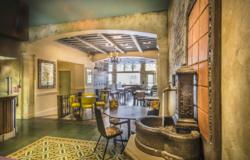 "The restaurant is a balance of both Cuban and Mexican influences and the unique space will allow John and Chef Cashion to expand upon their distinctive cooking style." - Alexander Crawford, Director of Interior Architecture at Streetsense
Bethesda, MD (PRWEB) May 28, 2013
Streetsense, an integrated brokerage, design, branding, marketing, and architecture firm announced today that they recently represented Taqueria Nacional in a 10-year 2,385 square foot restaurant lease at 1409 T Street, N.W., Washington, DC. Streetsense also completed the interior design for the new restaurant space, which blends Cuban and Mexican influences.
James Beard award winning chef Ann Cashion and business partner John Fulchino, relocated Taqueria Nacional, which was previously located behind their restaurant, Johnny's Half Shell, at 400 North Capital Street. The pair officially opened the doors at this new location on Wednesday, May 15. In addition to the authentic Mexican tacos and aguas frescas for which the Taqueria is acclaimed, the new location also features draft beer and margaritas. Hours of operation: Monday 11am-10pm, Tues-Thurs 11am-11pm, Fri 11am-12am, Sat 10am-12am (Breakfast 10am-12pm), Sun 10am-10pm (Breakfast 10am-12pm).
Streetsense's Angie Trosper represented Taqueria National in the lease transaction and Karen Nelson of Blake Dickson Real Estate represented the building's owner, Ron Eichner of New Legacy Partners, LLC. Streetsense's interior design team was lead by Kristina Crenshaw & Alex Crawford.
The new taqueria, located in a former historic United States post office, seats a total of 45 guests inside with plans to have informal bench seating outside. Cashion and Fulchino's desire to bring an aesthetic balance of Cuban and Mexican inspirations to the space influenced the interior design.
Working with a long and narrow space, Streetsense was able to design the space to appear quite large by creating three distinct spaces, including an outdoor courtyard/patio, living room, and interior courtyard, each of which is highlighted by their own unique flooring and ceiling treatments. Guests will be encouraged to relax and enjoy culinary delights in any of the three areas, which all feature decorative finishes along the walls and ceilings created by muralist Eric Abrecht, a nationally acclaimed artist from Towson, Maryland. Additional design elements include reclaimed furniture, shutters and railings, all of which were selected for their vintage characteristics and authentic appeal. Authenticity was so important to Fulchino, Cashion and the Streetsense design team that the concrete tiles used on the kitchen walls and indoor courtyard flooring were custom designed and imported from Spain. Paying homage to the old post office, the team added lettering to the front of the service line counter that is reminiscent of what once appeared on a sign outside of the building.
Since 2007, Taqueria Nacional has been recognized for it's high quality and authenticity. Bon Appetit magazine honored the restaurant in 2007, naming it one of the five best new Mexican restaurants in the United States. The Mexican Embassy added to their honors in 2009 with a medal of distinction for Taqueria Nacional's faithful reproduction of classical Mexican flavors. "Ann and I are very excited to have a historic Washington DC landmark like the old T Street post office house our Taqueria, and hope that it will be as well received on T Street as it was on Capitol Hill", commented John Fulchino, co-owner of Taqueria Nacional.
"The restaurant is a balance of both Cuban and Mexican influences and the unique space will allow John and Chef Cashion to expand upon their distinctive cooking style. It will be a great asset to the Washington, DC food scene and we're honored to help them design an authentic taqueria in one of Washington, DC's most vibrant neighborhoods," said Alex Crawford, Director of Interior Architecture at Streetsense.
John Fulchino has been a force in the Washington, DC food industry for over 25 years. Renowned for his discerning palate and his infectious humor, John managed the bar at the original Austin Grill on Wisconsin Avenue where he developed his celebrated margarita. For the past 35 years, Chef Ann Cashion has worked intensively in restaurant kitchens in both the United States and Europe. After moving to Washington in 1985, Ann developed the menu for what became the acclaimed Austin Grill on Wisconsin Avenue. Ann later was head chef for South Austin Grill in Arlington, Virginia and Executive Chef for Jaleo in Washington, DC.
In May of 1995, Ann and John opened Cashion's Eat Place in the Adams Morgan neighborhood of Washington, DC, which quickly became a destination for serious diners throughout the metropolitan area. In 1999 the duo wowed Washington diners for a second time with their beloved oyster bar, Johnny's Half Shell, featuring classic American regional seafood. Five years later, Ann received the James Beard award for Best Chef Mid-Atlantic 2004.
About Streetsense:
Streetsense is an integrated brokerage, architecture, design, branding, and development company specializing in retail, hospitality, restaurants and real estate. Established in 2001, Streetsense is the premier, and only truly full-service, retail-centric company in the real estate market today. For more information, please visit http://www.streetsense.com