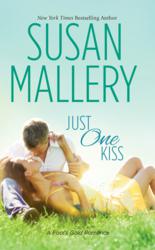 I've always felt the best form of marketing was when one reader presses a Susan Mallery book into the hands of another and says, 'You will love this.'
Seattle, WA (PRWEB) May 14, 2013
In April, bestselling romance author Susan Mallery invited her fans to try out for the Fool's Gold Varsity Cheerleading squad, a group of super fans who earn points and win prizes for creating buzz in their hometown about Mallery's book series, the Fool's Gold romances. The women who comprise the squad are regular women – wives, moms, college students, retirees – with a strong sense of fun and a passion for reading.
"I'm blessed with the most enthusiastic readers in the world," Mallery says. "Hundreds of fans tried out for the squad. Of course, it helps that I don't ask them to wear short skirts or do the splits. All they have to do is talk about books to other readers, and they love it!"
The Fool's Gold Varsity Cheerleaders are, in essence, a street team, the hottest thing in book marketing.
"I have always felt that the best form of marketing was when one reader presses my book into the hands of another and says, 'You will love this.' I wanted to find a way to capture that – and to reward it," Mallery says. "This is the third year, and we have a number of women who have been on the squad since the beginning. They're having a lot of fun, and that's what it's all about."
Mallery provides bookmarks, excerpt booklets, and temporary tattoos, which the women use as tools to start conversations wherever they are. The Fool's Gold Cheerleaders earn points for every conversation, and they win prizes such as tote bags, visors, beaded purse charms, gift cards, pizza parties and more. But the best prizes by far, the Cheerleaders say, are the friendships they form with each other and with their favorite author.
Announcing the 2013 Fool's Gold Cheerleaders:
Alisha W - Bentonville , AR
Allyson B - Roxboro , NC
Amanda W - Tifton , GA
Amy O - Chattanooga , TN
Andrea C - Elkins , WV
Angela M - Evans , GA
Anna B - Yankton , SD
April P - Las Vegas , NV
Beccie W - Wynnewood , OK
Brenda R - Tulsa , OK
Carey S - Terre Haute , IN
Charity G - Medina , NY
Charlotte S - San Antonio , TX
Darla P - Crown Point , IN
Deborah O - Hollywood , FL
Dee M - Kansas City , MO
Denise R - Carlsbad , CA
Denise H - Bel Air , MD
Dollie W - Metairie , LA
Donna K - Springfield , NJ
Donnita S - Cumberland City , TN
Dyan C - Miami , FL
Emily C - Alexandria , VA
Fran H - Noblesville , IN
Gabrielle L - Chicago , IL
Gay H - Collinsville , IL
Jackie D - Panama City , FL
Jamie H - Hartsville , SC
Janis P - Milwaukee , WI
Jayme M - Berea , KY
Jeanette B - Killeen , TX
Jennifer M - Modesto , CA
Jessicca H - Lansing , MI
JoAnne W - Trumbull , CT
Judie B - Sarasota , FL
Julie B - Portsmouth , RI
Karen K - Littleton , MA
Katharine P - Nampa , ID
Kendra O - Flushing , MI
Kerri W - Houston , TX
Kim C - Douglasville , GA
Kortney J - Schofield , WI
Leanne J - Lees summit , MO
Lesley L - Mechanicsville , VA
Linda S - Collinsville , CT
Lisa G - Franklin , KY
Lora R - Moody , AL
Lori H - Irving , TX
Madison F - Chicago , IL
Maria S - Mechanicsburg , PA
Mary G - Amherst , MA
Melissa S - Chandler , AZ
Melissa M - Cedar Rapids , IA
Melissa G - Butler , PA
Michele R - Myrtle Beach , SC
Millie S - Marlton , NJ
Molly M - Milwaukie , OR
Nancy R - Norfolk , VA
Pamela O - Papillion , NE
Patsy T - Thornton , CO
Paulette W - Chardon , OH
Peggy C - DuBuque , IA
Perrin L - Morgan Hill , CA
Philomena D - White Plains , NY
Rebecca S - North Canton , OH
Robin S - Greensboro , NC
Shannon F - Glassboro , NJ
Shannon C - Reno , NV
Shannon H - Pickerington , OH
Shari B - Derby , KS
Sharon B - Albuquerque , NM
Stacey C - Wake Forest , NC
Stef M - Perkasie , PA
Stephanie G - Bellingham , WA
Susan U - Valencia , CA
Suzette R - Bismarck , ND
Suzie Q - Maurice , LA
Tanya C - Voorheesville , NY
Tiffany S - Columbia , MO
Wendy K - Macclesfield , NC