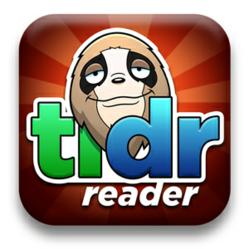 We've listened to a lot of user feedback and pulled out the stops to optimize the performance of our app for three times the headlines and summaries as our first version.
Phoenix, AZ (PRWEB) February 19, 2013
Stremor announced today a significant update to both Android and iOS versions of their popular news app, TLDR Reader. The update includes a significant increase in the number of headlines in each news category from 50 to 150, for as many as 2,000 summaries of breaking news in 14 categories. TLDR Reader features Stremor's Liquid Helium, a language heuristics engine that comprehends written language to instantly generate one paragraph news summaries of about 75 words. When combined with the additional summaries of the Samuru search powered "Find More Like" feature, mobile news consumers can quickly receive over 20,000 headlines and summaries within the TLDR Reader app.
"We've listened to a lot of user feedback," Says Greg Rewis, Chief Experience Officer at Stremor. "And pulled out the stops to optimize the performance of our app for three times the headlines and summaries as our first version." Additional user feedback requested easier access to the built-in TLDR Mobile Browser and search engine. "We also put the browser button on the menu bar," Rewis continues, "So that mobile users can browse anywhere more easily, and get TLDR summaries of any page."
"The user feedback has been incredible," says Stremor's CEO, Bill Irvine. "Just about all the reviews are four and five stars, with more people using our support system for positive comments and suggestions than support!" The goal of TLDR Reader is to give mobile content consumers a fast and efficient way to sort through breaking news and quickly find the content they need. "Greg and the team read every comment and responded to most," Irvine continues, "And worked really hard to quickly complete more than three dozen performance enhancements to support over 20,000 headlines and summaries at any given time."
The TLDR Reader app leverages the power of Liquid Helium, the company's proprietary language heuristics engine, the foundation of all Stremor's products and services. Liquid Helium has the ability to determine the importance of content sentence by sentence and choose the sections that are most important. Understanding of language allows the software to create one paragraph summaries of 75 words which read naturally and represent the full content.
TLDR Reader version 1.1 is now available for both iPhones in the iTunes App Store and Android phones in the Google Play store. Users who already have installed TLDR Reader should update their devices. To get TLDR Reader on your iPhone or Android phone, just visit TLDRstuff.com for the link as well as updates on Windows Phone availability coming soon.
Stremor Corp is an Internet technology startup, focused on building language analysis solutions that close the gap between raw information and actionable knowledge. Stremor utilizes a powerful language heuristics engine, Liquid Helium, to build innovative consumer applications that showcase their core technology's ability to comprehend language in a way that delivers a rapid path to relevant knowledge. For more information, contact Stremor Corp via their website, http://www.stremor.com.