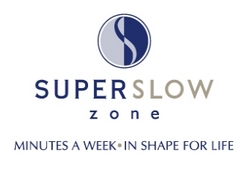 We know you must work muscles hard, then back off and permit the body to grow the muscles larger and stronger
Bunker Hill Village, Houston (Vocus) August 17, 2009
SuperSlow® Zone of Greater Houston has opened its doors to offer Houstonians a new approach to exercise. SuperSlow® Zone at 9738 Katy Freeway, Suite 200 provides a one-on-one efficient, effective workout in a cool (68°), studio environment with state-of-the-art Nautilus® equipment. And, SuperSlow® Zone eliminates the long hours at the gym, sweating, along with dozens of folks doing countless repetitions and wearing Spandex®.
In fact, the upscale SuperSlow® Zone workout room has just 10 pieces of equipment. Sessions last an intense 20 minutes and are scheduled by appointment only. You workout on each piece of equipment three minutes or less. And, if Pitchman Billy Mays were still with us, he would say ''But wait, there's more…'' -- the best part is - you don't even need to change into workout clothes.
If it sounds too good to be true ... just ask Conroe, TX native and strength and training expert, Ken Hutchins. He discovered the benefits of the SuperSlow protocol. "We know you must work muscles hard, then back off and permit the body to grow the muscles larger and stronger," said Hutchins.
"SuperSlow® Zone solves one of our biggest challenges - finding the time for our own health," said Debbie Lindsey-Opel, Managing Partner of the family owned SuperSlow® Zone of Greater Houston. "No more excuses -- start to finish, this comprehensive strength training workout lasts exactly 20 minutes."
SuperSlow® Zone exercise crosses all skill levels. With the high caliber Nautilus One equipment, SuperSlow® builds muscle strength for work-out regulars in a fraction of the time of traditional exercise. And, with the slow, controlled movements, it's appropriate for beginners or those just returning to exercise after recovering from illness.
"We're proud to be a part of making Houston healthier," said Chris Opel, Managing Partner. "My wife, Laura, and I have personally experienced the dramatic difference SuperSlow® Zone can make. Her mother, Kitty, was a patient at M.D. Anderson. It was hard to watch as the cancer took her strength. And, it was AMAZING to see how SuperSlow® Zone built it back."
SuperSlow® Zone is accepting new clients at its Bunker Hill Village location. Stop by Mon. - Sat. 9 to 7 and Sun. 1 - 5, call us at 281-914-4494, or visit http://www.sszHouston.com for more information.
SuperSlow Zone® of Greater Houston is family owned and operated. Debbie Lindsey-Opel and her husband, Pete, and Laura Opel, and her husband, Chris, are Master Licensees of the SuperSlow Zone® health and exercise franchise. Certified SuperSlow® instructors are focused on achieving and sustaining client results. Research continues to validate the importance of exercise in a healthy lifestyle and the benefits of controlled, slow efforts.
###