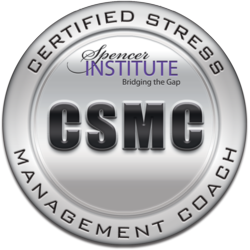 Stress management coaching is a rewarding, lucrative stand-alone career or an add-on for life coaches, wellness coaches and health professionals.
Rancho Santa Margarita, CA (PRWEB) April 17, 2013
Stress can lead to everything from disrupted sleep to heart issues, from lack of concentration to ulcers, adding up to millions of dollars in health care costs every year. Making stress management more of a reality, The Spencer Institute's online Stress Management Coach certification focusing on changing behaviors and improving lives at http://spencerinstitute.com/stress-management-coach-certification/.
Designed for life coaches and fitness and wellness professionals interested in helping others reduce stress and achieve greater wellness, the Spencer Institute's 100 percent online Stress Management Coach certification teaches skills and practices including breathing techniques, relaxation, meditation, visualization and more to help clients increase body awareness and regain control of physiological functions. Participants also receive valuable advice on adding stress management coaching to any existing business or launching a new stress management coaching business.
"You can literally make a difference in thousands of lives while enjoying a personally and financially rewarding career as a certified stress management coach," said Dr. John Spencer Ellis, CEO and president of The Spencer Institute and creator of the Stress Management Coach certification. "Stress management is needed today more than ever, and this certification gives you a chance to be part of the solution and teach others to learn to respond appropriately to the inevitable stressors in their lives."
Stress can affect the immune system, the success of kids and teens, productivity at work, addictive behaviors and much more, making knowledge about stress and effective management incredibly important.
"Everyone has stress. Stress management coaching teaches that it's simply a matter of learning how to harness it rather than letting it run your life," Ellis added.
About the Spencer Institute
Founded by Dr. John Spencer Ellis, an international leader in wellness coaching, personal development and fitness, The Spencer Institute offers life coaching, holistic education, nutrition coaching, sports psychology and wellness training certification programs delivered in online and distance learning formats that are designed to provide a step-by-step blueprint to success. The programs were developed to help people find the career of their dreams while helping others live better lives. For more information about the Spencer Institute or the Stress Management Coach Certification, please visit http://spencerinstitute.com/stress-management-coach-certification/