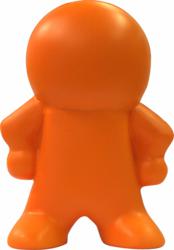 imported stress balls are imported in bulk to give amazingly fast turn around times...
Stevenage, Hertfordshire (PRWEB) June 30, 2011
StressBallsUK.com has launched a new and exciting new range of stress balls to add to their already extensive range online. Selling a combination of the UK manufactured stress balls that are made to order and the cheaper imported items StressBallsUK.com really does offer something to suit most customer's needs.
The UK manufactured stress balls are not held in stock but are made to order allowing them to be produced in one of the ten standard colours, or for orders of 1000 units can be pantone matched. The quality of foam is second to none and has a fantastic long lasting squeeze offering a real quality promotional gift. All of the stress balls can be printed with a logo or slogan and using the quality flexitran print to make sure your message lasts.
The imported stress balls are imported in bulk to give amazingly fast turn around times. Plain stock can be delivered next day in most cases and printed orders can be turned around in as little as 3 working days. The imported items are a cheaper alternative to the UK manufactured balls, however the quality is much higher than most imported stress balls as they are carefully selected from high quality factories. The imported stress balls allow for great printed details such as printed wheels and windows on cars and amazing detailed animal stress balls such as the Zebra .
The best selling X-man stress toy now has a rival with the increasingly popular Burt stress ball which has a larger print area and the ever popular printed eyes. The new smartphone armchair is a great multi functional stress toy which can be used to hold your phone at your desk and relieve stress when needed. All of the above are offered in a range of 10 great colours or can be pantone matched for orders over 1000 units.
New imported shapes include the multi functional Wobbler which is a stress ball man that has a magnet in the head and a weighted bottom to wobble, hold paperclips and reduce stress all at the same time. For a more traditional stress toy the ever popular football stress ball now comes in a range of five colours or for even more choice the standard round ball is now available in 23 different colours.
All new shapes are available to order now so why not contact http://www.stressballsuk.com today to discuss your promotional needs.
# # #