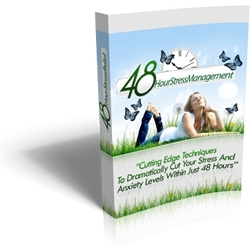 After following just a few of the techniques mentioned in this book, my stress levels were reduced significantly
Orangeville, ON (PRWEB) April 7, 2010
April is Stress Awareness Month. It is sponsored by the Health Resource Network, a non-profit education network consisting of educators and health professionals. Stress Awareness Day is April 16th. Some key facts about stress:
· 75% of the general population experience at least "some stress" every two weeks (National Health Interview Survey).
· There is no such thing as "good" or "healthy" stress; all stressors are bad for you.
· Millions of Americans suffer from unhealthy levels of stress at work.
· Tranquilizers, antidepressants, and anti-anxiety medications are responsible for one fourth of all prescriptions in the U.S. every year.
Source: Health Resource Network
Most people don't know how easy it is to reduce stress levels. Yourbrain Media has released a downloadable E-Book, 48 Hour Stress Management, which will help to reduce stress through proven techniques used by professionals that have to deal with high-stress situations daily.
48 Hour Stress Management delivers a short-term plan to drastically reduce stress levels within 48 hours, using cutting edge techniques such as yoga and self-hypnosis.
Brad Gosse, founder of Yourbrain Media and SEO expert, is no stranger to stress:
"After following just a few of the techniques mentioned in this book, my stress levels were reduced significantly. Now all it takes is a few minutes in the morning with some of the professional exercises to keep my stress levels low throughout the day. My daily routine used to stress me out; now I look forward to it every day!"
48 Hour Stress Management doesn't simply give band-aid techniques to manage stress levels; it digs down deep into the issues that are causing stress, for far less than the cost of a psychiatrist or medication.
About Yourbrain Media:
Yourbrain Media has been driving successful website development and online advertising since the early days of the internet. 48 Hour Stress Management is its latest cutting-edge E-Book.
Contact:
Brad Gosse, Yourbrain Media Inc.
519-925-9856
http://www.48hourstressmanagement.com/
###