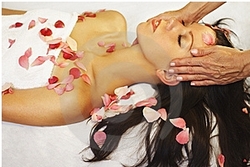 Truly, an incredibly refreshing website, all the tools you need to create a lifestyle of emotional oomph, and all under one roof!
Orlando, FL (PRWEB) March 19, 2010
When our senses are aroused and pampered, as they are through the application of therapeutic methods such as; the use of aromatherapy (smell); art therapy (visualization); massage (touch); music therapy (hearing), food therapy (taste); we are actually indulging in the most sublime form of physical, spiritual and emotional healing there is.
With the present unstable economy, the decline in available jobs, and the threat of terrorism lurking over our heads, this generation is more prone to going over the ledge than any other. To make matters worse, few people have the time or budgets to seek help from a professional counselor or mental health practitioner. The results are, more and more people are relying on "do- it- yourself" solutions for stress management. This is when a brand new website, indulgemysenses.com comes to the rescue.
Nature's tools are as old as nature itself. Even animals know how to use nature in order to remain balanced. Ever seen an elephant enjoying a mud bath? With that in mind, let us see what's the story behind "The Sensory Awakening Shop."
"Well, in my own quest for spiritual and emotional well-being, I realized how frustrating it was navigating the entire web, jumping from site to site just to find the tools recommended and outlined in my relaxation course. I often wished there exist a site where I could find everything I needed in one place; self improvement books, aromatherapy products, meditation, audio tapes, information on botanical and alternative medicine, art therapy tools, etc. I even wondered if there were others who in their search for tranquility felt the same way I did. That is when it dawned to me that I could create such a website. First and foremost, my website would have four important features; simple to navigate, aesthetically pleasing, informative and resourceful. I began my research, affiliated with the best suppliers of natural and therapeutic products, and boom! That's how indulgemysenses.com was born," explains Monique.
Stress management besides being a catalyst to personal well-being can also help the economy of the country, since it is estimated that stress is not only a danger on a personal level, but the Occupational Safety and Health Administration has declared stress a true hazard of the workplace. It's costing the American industry $300 billion annually, as people continue taking days off due to stress related issues. Stress can also make diseases like diabetes, high blood pressure, asthma, and heart disease worse.
indulgemysenses.com offers the best products in the field of self-improvement and stress management; relaxation; inspirational books,aromatherapy shops, mind entrainment stores, herbal product companies, relaxation music stores, gourmet food, teas and coffee shops, and an inspirational radio station. It even provides a link to a licensed family therapist offering private consultations via email.
At indulgemysenses.com, visitors find a dose of inspiration through daily affirmations, relaxing images, and a sense of immediate gratification as they are greeted by enchanting, relaxing music. Health and beauty related videos and articles keep the website as informative as it is aesthetically pleasing.They even have a link to a licensed family therapist offering private consultations via email. Truly, an incredibly refreshing website, all the tools you need to create a lifestyle of emotional oomph, all under one roof!
indulgemysenses.com is one of those few websites that revolve around the need for simplicity of its visitors. From the build up of the website to the products it features, indulgemysenses.com is a true sensory experience. We welcome The Sensory Awakening Shop, and wish its founder the best of luck.
# # #