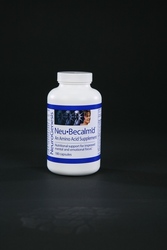 Power Marketing - 88 Strategies to Help You Build Your MLM Business Fast.
San Diego, CA (Vocus) May 20, 2009
J.Michael Palka whose 30 year career in MLM (Network Marketing) is entering a new phase as he joins NeuroGenesis (http://www.stressfreeavenue.com) a neutracuetical manufacturer and distributor. He is coming out of retirement from the MLM industry to build an organization of distributors. His main focus is the company's product, Neu-Becalm'd, a neutracuetical supplement with over two decades of history in helping people manage and control stress. Neu-Becalm'd carries 3 patents, clinical studies and is being successfully used in drug rehab clinics.
J.Michael Palka whose 35 year business career as a successful entrepreneur, author, MLM and marketing consultant and PR specialist has this to say, "People around the world are living lives of desperation, filled with stress more today than ever before. It has been said that up to 70% of all illness is stress related. People are finding it difficult to manage and control these life stresses. Yet there is a proven product that can help return control of their lives to them."
He further stated, "I am intimately familiar with Neu-Becalm'd because it has helped me and many of my friends to better deal with life's stresses and challenges for many years. I want to make sure people have the opportunity to be aware of Neu-Becalm'd. And if they choose, try it and decide for themselves the results it can have in their personal, professional, social and family relationships."
J.Michael will work closely with NeuroGenesis corporate to assist in the world wide exposure and marketing of Neu-Becalm'd.
For additional information on Neu-Becalm'd and a list of all the benefits available from its use or the business opportunity offered go to http://www.stressfreeavenue.com.
J.Michael Palka is also the author of the best selling book "Power Marketing - 88 Strategies to Help You Build Your MLM Business Fast." He has been known as one of the grandfathers of the MLM industry due to his wide spread promotion during the years when MLM was just getting started. He was one of the founders of Millionaires in Motion an experiential training company devoted to the development and success of Network Marketing distributors. J.Michael was also the first business person to receive the Bronze Medallion to the City of Houston, an honor usually reserved for dignitaries and heads of state for his work with small business.
Mr. Palka is available for speaking engagements and media interviews on how stress affects our lives and what can be done to manage and control those stresses.
Contact
Chris Hamric
jm(at)mediainked.com
619-977-5022
###