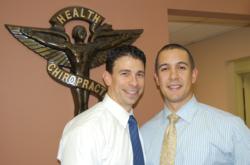 "Chronic daily stress can lead to a variety of ailments, fortunately there are techniques to deal with it," Dr. Michael Cocilovo
Rockland County, New York (PRWEB) April 30, 2013
Work can be a stressful place regardless of whether you earn your living in a corporate setting, home office, a factory, health care facility, school or other setting. Some stress is good. It motivates us and makes us stronger. Too much stress however, can be bad, affecting our health and reducing our productivity. Fortunately, there are specific things we can do that will help us reduce our stress at work and better cope with it. Here are a few tips and techniques from New City Chiropractic Center based in Rockland County, New York.
1.Make sure your Workplace is Cheery and Well Lit-
Too often we tend to work in small, cramped areas which are dreary, dark and just plain depressing. One of the most important aspects of reducing stress is making sure we are happy and motivated to be at our workstation. So first, brighten up your space by painting your area a bright and cheery color if possible. Try to make sure you have access to bright, indirect outside light and a window that you can open for fresh air. If this is not possible- then at least make sure that you have ample lighting to illuminate your workstation. Improper lighting in a work environment can cause health-related issues such as eye strain, fatigue, physical stress and headaches.
2- Address the Ergonomics of your Workstation-
Poor posture, lack of proper equipment and incorrect positioning of your computer and chair are all contributing factors to neck and back pain. Working at a computer can cause a lot of distress in a number of different parts of the body, including not only neck and back, but shoulders, wrists and hands too. With that in mind, there are some simple things we can do to minimize these problems:

Seat height should be such that our thighs are horizontal, lower legs vertical, and feet flat on the floor or on a footrest. The seat height should also allow a 90 degree angle at the elbows for typing and the backrest should offer firm support, especially in the lumbar (lower back) region.
The computer monitor should be clear and easy to see without leaning forward or looking up or to one side. The height where the top of the screen is should be level or within 15 degrees below eye level, and less than an arm's length away from you.
The computer keyboard and keyboard tray should allow for comfortable typing or keying. Your keyboard should be at a height that allows your elbows to be bent about 90 degrees and close to your sides. The computer mouse should be situated so that it does not require a lot of forearm movement or force.
If your job requires long periods on the telephone, then a telephone headset or speaker phone should be invested in so you avoid awkward neck and shoulder positions while talking and doing other tasks, such as typing.
While many of these suggestions may seem minor, when your wrists, arms, neck, eyes or back are at an uncomfortable or awkward angle day after day for extended periods of time, the impact it has on your health will be major. While work place injuries such as slips or falls are obvious in their impact on productivity and health, less obvious strains and pains can wreak havoc on your overall health and ultimately have a negative impact on productivity. Simple quick adjustments can often eliminate long term problems.
3- Take Breaks and Remember to Stretch-
No matter how well a workstation is designed, problems may arise if attention is not paid to the way the work is done. Working at a computer often involves very few changes in body position and this lack of movement can lead to muscle pain and strain. The best way to avoid this is by taking a break for 5-10 minutes for every hour spent at a workstation. In addition, simple stretches to the neck, shoulders, arms and wrists and low back are an important way of reducing the tightness and stiffness that often comes from sitting in one position for long hours.
The ability to work in a comfortable and happy environment is a benefit not only to your health and mental attitude, but to the bottom line. Less stress at work leads to increased productivity and improved quality of work life for employees and management alike. So- spend some time making sure your office is a de-stressed place to be- and I promise you that you and your boss will thank you.
Dr. Michael Cocilovo has been providing chiropractic care for over 25 years and is the Director of New City Chiropractic Center located in Rockland County. He often provides corporate workshops on The Healthy Office as well as corporate wellness and productivity. A Certified Sports Team Physician, Dr. Cocilovo is also one of a select group of chiropractors who is certified to perform Manipulation Under Anesthesia (MUA). He is a long-time member of the New York State Chiropractic Association and is Past President of the Rockland County Chapter of the American Chiropractic Association. He chose chiropractic because of its holistic approach to patient wellness.