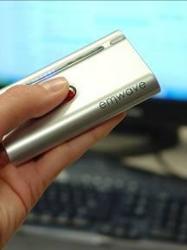 I noticed an immediate improvement at work when I started using HeartMath (techniques). I feel much more relaxed, and I have more energy. I feel that I can give even better care to my patients.
Boulder Creek, California (PRWEB) May 12, 2008
An estimated thirty to forty billion dollars are spent annually on complementary and alternative medicine. Progressive healthcare systems are recognizing that patient care must include educational programs and techniques to support a patient's capacity to enhance mental and emotional attitudes. An example of this is HeartMath®'s scientifically validated programs and technologies. HeartMath's programs and personal technologies are now being used by more than 10,000 health professionals world-wide. Their emWave Personal Stress Reliever® and emWave® PC Stress Relief System are being used by healthcare leaders such as Duke Medicine, Stanford Hospital, Mayo Health System, Blue Cross Blue Shield, Sutter Health, Scripps Center for Integrative Medicine, and Kaiser Permanente. A HeartMath master trainer will be presenting a hands-on training for event attendees at this year's American Hospital Association's (AHA) Integrative Medicine Summit, May 15-17.
A valued component of any integrative health program addresses the emotional needs and issues of patients. HeartMath's patient care programs offer wellness strategies and inspire hope in the face of illness. They address the patient's need for effective tools to manage stress and anxiety, helping to facilitate the healing process and empower the patient. Providing patients with tools to productively deal with the emotional aspects of illness can have a tremendous impact, carrying over into all area of their life. In a study with breast cancer patients conducted by the University of North Carolina, one participant who received training in the HeartMath program and the use of emWave technology stated in her therapy journal, "If nothing else, I am learning to control my emotions and that is having a tremendous impact on my life."
Wendy Warner, MD, Founder and Medical Director of Medicine in Balance, LLC and President of the American Board of Holistic Medicine, says, "Many, if not most, of my patients have physical complaints that stem, ultimately, from stress. As a holistic physician, I have a number of tools to help them, but the ones that I find the most helpful are HeartMath's programs, including the emWave technologies. They provide patients with a way to have more control over their own health, and have often been more helpful in lowering harmful stress hormones than anything else I've tried. In addition, they're fun and free from side effects! They're an invaluable part of my practice."
Dozens of independent studies utilizing HeartMath's programs and technologies are underway. Respected organizations including Kaiser Permanente, Veterans Administration, and University of North Carolina are exploring the benefits of HeartMath with various health challenges including anxiety, stress, breast cancer, ADHD, PTSD, and hypertension.
In this tumultuous time for the health care industry, emotional management is equally as important for the caregivers and for organizational health and productivity. Without effective strategies for the healthcare providers, patient care suffers, as well as personal and organizational effectiveness.
"Thriving healthcare organizations sustain a culture of care for their workforce as well as for the patients," said Bruce Cryer, CEO and President of HeartMath LLC. He adds, "HeartMath's programs create and facilitate a supportive and positive healing atmosphere by providing skills to manage stress within each individual. This translates into increased health and well-being for the organization as well as for those it serves."
HeartMath is the only system scientifically validated to reverse the effects of stress on both individuals and organizations--and to translate those effects into bottom-line results. These programs provide practical interventions that are easily learned by all levels of healthcare professionals. They support the vital goal of maintaining a caring and compassionate attitude without burnout or compassion fatigue.
Shiella DelaCruz, a neonatal intensive care nurse with Methodist Health System said, "I noticed an immediate improvement at work when I started using HeartMath (techniques). I feel much more relaxed, and I have more energy. I feel that I can give even better care to my patients."
The emWave Personal Stress Reliever (PSR) and emWave PC Stress Relief System are currently being used in a variety of healthcare settings. These technologies essentially mirror your emotional state by reading your heart rhythms and provide real-time feedback so you can more effectively manage stress and reset your inner balance.
The emWave products are just two components of the HeartMath® System, which is based on 17 years of rigorous scientific research on the physiology of and relationship between the heart, stress and emotions. These technologies help you prepare for and quickly recoup from stress triggers such as financial problems, meetings and deadlines, health issues and relationship conflicts by rebalancing your mind and emotions.
HeartMath has earned a global reputation for their innovative research and is acknowledged world-wide as a pioneer in the science of cardiac coherence. The HeartMath System is being used by Duke Medicine, Stanford Hospital, Mayo Health System, Blue Cross Blue Shield, Sutter Health, Scripps Center for Integrative Medicine, Kaiser Permanente and many other top medical centers and healthcare organizations around the world.
AHA Integrative Medicine Summit attendees can attend the HeartMath 2-hour interactive hands-on training where they will learn about new approaches to stress relief based on changing the heart rhythm pattern and creating physiological coherence in the body. A continental breakfast will be provided. Summit attendees can also visit the HeartMath booth (booth 11) in the Anasazi Ballroom for a demonstration of the emWave Personal Stress Reliever and emWave PC Stress Relief System. The AHA Integrative Medicine Summit will be held at the Pointe Hilton Squaw Peak Resort in Phoenix, Arizona on Thursday May 15th through Saturday, May 17th, 2008.
About the emWave Personal Stress Reliever:
This mobile interactive device is small enough to fit in your purse or pocket. A little smaller than an iPod and weighing just 2.2 ounces, emWave PSR reads your heart rhythms through its built-in finger sensor and gives immediate feedback, reflecting your emotional state through changing colored lights and sound. It includes a hands-free option and an animated instructional CD-Rom that guides you through the Quick Coherence® technique for immediate stress relief.
About the emWave PC Stress Relief System:
This PC software and hardware program collects data from your heart through a finger or ear clip sensor that plugs into your computer. The program translates the information from your heart rhythms into user-friendly graphics displayed on your computer monitor. As you apply the stress-reducing Quick Coherence technique learned from the tutorial, you see changes in your heart rhythms in real time. emWave PC allows you to store and track your progress over time, and has three colorful, interactive games designed to help you transform stress into creative energy. Another feature of emWave PC is its Emotion Visualizer® application, which provides stunning images, emitting changing degrees of color and movement as you adjust your emotional state.
About HeartMath:
HeartMath LLC (http://www.heartmath.com), a wholly-owned subsidiary of Quantum Intech (http://www.quantumintech.com), is a cutting-edge performance company providing a range of unique services, products, and technology to improve health and well-being, while dramatically reducing stress and boosting performance and productivity. For more than 17 years HeartMath clinical studies have demonstrated the critical link between emotions, heart function, and cognitive performance. HeartMath's compelling solutions for stress relief have been published in numerous peer-reviewed journals such as American Journal of Cardiology, Stress Medicine, Preventive Cardiology, Journal of the American College of Cardiology, Integrative Physiological and Behavioral Science and Alternative Therapies in Health and Medicine. HeartMath's organizational clients include Duke Medicine, Stanford Business School, Stanford Hospital, Mayo Health System, Blue Cross Blue Shield, Sutter Health, Scripps Center for Integrative Medicine, BP, Cisco Systems, Redken, Kaiser Permanente, Boeing and the NASA Goddard Space Flight Center, as well as dozens of school systems and thousands of health professionals around the world.
Media contact: Gabriella "Gaby" Boehmer
(831) 338-8710 or gboehmer@heartmath.com
# # #