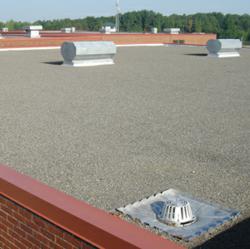 StressPly E utilizes the latest in recycled and renewable raw materials in the manufacturing process, resulting in recycled content as high as 39 percent by weight.
Cleveland, OH (PRWEB) July 27, 2011
Garland's newest StressPly® E (Environmental) modified bitumen roofing membrane offers 500 lbf./in. of tensile strength and incorporates a variety of post- and pre- consumer recyclable materials and rapidly renewable resources for increased sustainability. This high-strength, puncture- and fatigue-resistant membrane makes an ideal waterproofing and reinforcement layer for applications demanding a high level of environmental responsibility.
The new StressPly E membrane retains the high-performance capabilities of earlier versions of the product, while setting a new industry standard for the incorporation of environmentally responsible materials. In addition, the membranes can be installed using Garland's Green-Lock® Membrane Adhesive for 100 percent VOC-free, odor-free application. As the robust weathering membrane in a multi-ply system, StressPly E membranes provide the security and longevity of multi-ply construction with the flexibility and elongation of an elastomeric system.
Tom Bauer, Garland's product manager, explains: "StressPly E utilizes the latest in recycled and renewable raw materials in the manufacturing process, resulting in recycled content as high as 39 percent by weight. This helps building owners achieve USGBC LEED® MR 4.1, 4.2 and 6 credits*. In addition, a fire retardant is added to the compound during the manufacturing process, enabling it to maintain its fire rating for the life of the membrane.
Specifically, StressPly E membranes contribute to LEED points through the incorporation of:

Post-consumer scrap from recycled tires in the roofing compound
Pre-consumer recycled boiler slag as surfacing
Pre-consumer crushed porcelain as filler
Post-consumer glass bottles as a parting agent
Rapidly renewable resources (soy-based oils, bio-based resins, and crushed sea shells), in substitution of petroleum-based resources in the roofing compound
StressPly membranes, which can be hot or cold applied, are designed for use as the top component in built-up roof applications demanding superior strength. They may also be used to add extra durability in a two-ply flashing system or to repair splits, cracks, and other deteriorated areas in existing asphalt-based roofing systems.
The Garland Company, Inc. is a worldwide leader of quality, high-performance roofing and building maintenance systems for the commercial, industrial and institutional markets. For over 100 years, Garland has continually developed unique product and service offerings that raise industry standards of performance in order to meet the technical performance requirements of a wide range of challenging waterproofing applications throughout the world. Its 200 local representatives are strategically positioned throughout the United States, Canada and the United Kingdom to provide integrated product and service solutions for single and multi-property facilities. The Garland Company, headquartered in Cleveland, Ohio, is an ISO 9001:2008 certified company.
For a free roof inspection, or for more information, visit http://www.garlandco.com, contact them directly, or phone a local Garland representative at -800-321-9336.
###