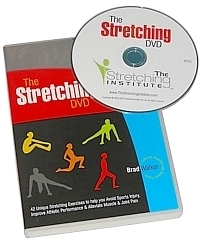 So many people simply don't know the right way to stretch, or they don't have a series of stretches that actually cover all of their muscle groups
Long Island City, NY (PRWEB) August 5, 2009
Torn ligaments. Overextended muscles. Dislocated shoulders. Pulled tendons. Athletes and non-athletes alike know that any one of these injuries can prevent them from performing basic tasks, like walking, for weeks, months, or even up to a year. So why aren't any of them stretching to increase their range of motion and prevent these sorts of injuries?
Brad Walker, founder of The Stretching Institute, has the answer. "So many people simply don't know the right way to stretch, or they don't have a series of stretches that actually cover all of their muscle groups," he explains. That's why the online sports therapy help site (located at TheStretchingInstitute.com), recently launched a DVD that features pro athletes demonstrating 44 different stretches.
"There are hundreds of DVDs and videos that feature full-length workouts, and they'll usually have some perfunctory stretching at the beginning and end," says Walker. "But with all the DVDs out there for exercise, there's really not an adequate DVD about stretching - and stretching is critical for any kind of exercise." With over 100 minutes of individual stretching exercises as well as explanations and rules for safe stretching, an essential gap in the exercise video industry has been filled.
The Stretching Institute has bent over backward (stretching first, naturally) to ensure the DVD is easy to follow and customizable for every kind of athlete using it. Viewers can either, play all 44 stretches in succession, select a specific stretch from the menu, or choose a customizable routine for stretching certain parts of the body, including the Upper Body, the Lower Body, and the Neck, Back & Core. "We wanted to make a DVD that was useful for every possible situation," explains Walker. "If you have a neck problem, you don't want to have to fast-forward through all the other exercises to get to the neck stretches."
The high-quality DVD features two pro athletes performing each stretch with slight variations to help viewers who have different levels of fitness and flexibility. As they're following along with the stretches, viewers can be sure they're performing it correctly by matching their movements with the athletes, and they can also check the time of the stretch with the handy 20-second count-down timer on the screen.
"There's no substitute for being able to see someone perform a stretch," Walker says. "There are quite a few printed demonstrations for stretches, sometimes even at the gym - but until you see someone else do it from start to finish, you can't be positive you're doing it correctly." Since performing a stretch incorrectly can actually lead to other injuries, this DVD is essential for anyone engaging in physical activity.
The DVD is perfect for learning the proper way to stretch - one thrilled customer described it as akin to having their own personal trainer - but for those who want a reminder guide to take along to the gym, The Stretching Institute has them covered there, too. The bonus DVD-ROM that comes with the stretching DVD prints out over 80 stretching routines for 22 sports and 19 different muscle groups. "It's a great guide when you want something portable to take along with you," says Walker. "After you've already learned the right way to perform them by watching the experts, naturally." Otherwise, there's still the possibility of injury. And that's just what The Stretching Institute's DVD is here to prevent.
For more information about the new Stretching DVD, please visit the DVD product description page here.
###