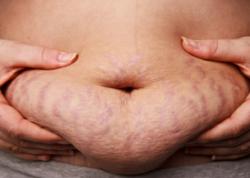 Our skin is designed to be flexible. Well-nourished, healthy skin has the ability to snap back like a rubber band. However, when it isn't in optimal condition, rapid stretching can result in tearing at the dermis layer
Bethesda, MD (PRWEB) October 16, 2012
Approximately 75% of women develop stretch marks during pregnancy. While some claim that stretch marks are caused due to the inevitable rapid stretching of skin during the third trimester, the fact remains that there are other factors at play since not all women get stretch marks during pregnancy. In fact, many women get stretch marks on their arms, thighs and hips, while the belly remains clear despite it having stretched the most.
"Our skin is designed to be flexible. Well-nourished, healthy skin has the ability to snap back like a rubber band. However, when it isn't in optimal condition, rapid stretching can result in tearing at the dermis layer," said Harmala Francois, CEO of Avishi Organics, developers of the Intensive Repair Oil for stretch marks and scars. "A nutrient-dense diet, exercise, topical oil massage, avoidance of chemicals, and plenty of water, all contribute to healthy skin during and after pregnancy."
With the right care, stretch marks can be prevented during pregnancy. Follow these 6 tips for a smooth post-partum belly:
1. Get more Zinc*
Stretch marks, at the time they form, are almost always a result of low zinc levels. During pregnancy, zinc deficiency is particularly common because of the high demand for the mineral by the growing baby. In addition, hormonal changes, common during pregnancy, also deplete Zinc. The most bio-available sources of zinc come from red meat and oysters. Vegetarian sources include seaweed, flaxseed/oil, nuts and seeds.
2. Keep skin supple
A German study by Wierrani F. et al titled "Attempt of preventive treatment of striae gravidarum using preventive massage ointment administration", suggests that two-thirds of women who apply a stretch mark oil/cream do not experience stretch marks. Massaging a stretch mark oil twice a day to all stretch mark prone areas can greatly assist with replenishing your skin's natural oils thereby helping with skin elasticity and preventing stretch marks from forming.
Avishi Organics' Intensive Repair Oil not only keeps skin supple through pregnancy, it also contains powerful skin-cell regenerating ingredients that work hard to smoothen skin texture, encourage elasticity and enhance the repair process. "After the baby was born, I noticed that I did not experience the same creping that I had with the first birth and that my skin had more elasticity to it," said a reviewer after using Avishi's Intensive Repair Oil.
3. Ease the itch
For many women, there is a definite correlation between itchy skin and the subsequent development of stretch marks. Reviewers of Avishi Organics' Intensive Repair Oil claim that is really helps control the itch during pregnancy:

"…it worked wonders on my itchy belly in my last stretch of pregnancy"
"…I do feel that it has helped to relieve …the belly itch and smooth my skin."
"…The itching and burning on my skin has completely disappeared and the oil smells amazing."
4. Go natural
Considering that many pharmaceutical drugs are administered through skin patches, it is evident that the skin absorbs a lot of what is applied to it. A study by the Environmental Working Group found an average of 200 industrial chemicals and pollutants in umbilical cord blood from babies born in U.S. hospitals. Avishi Organics' Intensive Repair Oil is made from pure botanical extracts and oils renowned for their powerful healing properties. It is free from chemicals, fragrances, colors, parabens, sulfates and other toxic ingredients.
5. Stay hydrated
This cannot be over-stated. Drink enough water! Lack of hydration can lead to dry, flaky, itchy skin – and dry skin does not stretch as easily as hydrated skin, which makes stretch marks more likely to occur.
6. Get some exercise*
Exercising helps keep muscles and skin firm, and improves circulation – This improved circulation means that skin will get more of the nutrients it needs to stay supple, elastic and healthy.
Always consult your healthcare practitioner before starting an exercise regimen and/or making dietary changes during pregnancy.