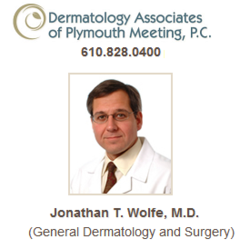 Plymouth Meeting, PA (PRWEB UK) 23 July 2012
Dr. Jonathan Wolfe of Dermatology Associates of Plymouth Meeting this week reacted publicly to the health concerns related to the growing prevalence of young people in the US habitually using tanning salons, backing the American Academy of Pediatrics in their attempts to make the use of sunbeds illegal for minors under the age of eighteen.
Dr. Wolfe points out that indoor tanning is a potent source of ultraviolet radiation, one of the principle causes for melanoma. The Colorado doctor is at the vanguard of a move to raise awareness of the fact that the risk of melanoma goes up 75 per cent when tanning bed use begins before the age of 30.
As the author of a recent investigative report into the dangers of regular use of sunbeds and the irresponsible, unethical and misinformation delivered in the sales approach of many salons, Dr Wolfe stated that the investigators interviewed 300 tanning salons around the country and found that about 90 per cent of them fail to follow recommendations by the Food and Drug Administration on tanning frequency. The investigation uncovered tanning salons' systematic targeting of teenagers with advertising and promotions, provision of false information and denial of known risks associated with indoor tanning. Some salons' employees even claimed that indoor tanning had health benefits.
The report, discussed on Dermatology Associates of Plymouth Meeting 's website was commissioned by the Energy and Commerce Committee minority staff. The report, based on investigation conducted by undercover House Democratic staffers, found that the tanning-salon industry is often far from truthful about the health risks associated with tanning beds.
The report highlights that indoor tanning significantly increases skin cancer risks and presents a number of other significant health concerns. These risks are particularly acute for teenagers and young adults, the reason for the American Academy of Pediatrics's calls for a ban of indoor tanning for children under 18.
With these facts in mind, some House Democrats call for stronger regulation from the Food and Drug Administration. As a leading dermatology clinic, Dermatology Associates of Plymouth Meeting stands firmly behind their recommendations. The premium Pennsylvania dermatology clinic suggests avoiding indoor tanning practices, especially for children under 18. Awareness is also a key to safeguarding dermatological health. Accordingly, Dr. Wolfe recommends increasing people's knowledge about the health risks involved in indoor tanning and educating minors about the dangers of using these saloons.
To learn more about dermatological health or schedule an appointment with one of the top specialists at Dermatology Associates of Plymouth Meeting, please visit http://plymouthmeetingdermatology.com.
About Dermatology Associates of Plymouth Meeting:
Dermatology Associates of Plymouth Meeting is one of the areas, largest, most progressive dermatology group practices. Founded in 1981, this leading dermatology clinic specializes in the diagnosis, treatment and counseling for diseases of the skin, hair and nails. Offering top quality dermatological care and service, health providers from the Dermatology Associates of Plymouth Meeting aim to optimize treatment outcomes and patient satisfaction. Among the services offered by these leading in their specialty health providers are also cosmetic dermatology and clinical aesthetics procedures that can enhance appearance, improve self-image and sense of well being.
Contact details:
http://plymouthmeetingdermatology.com
Dermatology Associates of Plymouth Meeting, P.C.
531 W Germantown Pike #200, #201, #203
Plymouth Meeting, PA 19462
(610) 828-0400
F (610) 828-3869