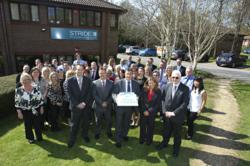 Stride is built on firm foundations and we have never lost sight of putting the customer first. Business technologies may change as we move into a multichannel era, but our principles of service and fair dealings never will.
Denmead, Hampshire (PRWEB UK) 14 May 2013
Stride Insurance Group, the Hampshire based wholesale provider of Property Owners insurance to brokers, celebrates its 40th anniversary at the BIBA 2013 conference and exhibition this week. Stride is both proud and delighted to be celebrating this significant milestone at the UK insurance industry's key annual event, which takes place at the ExCeL Centre in Stratford, London on 15 & 16 May.
From humble beginnings as a financial services business in 1973, Stride swiftly developed an expertise in Property Owners insurance that remains a fundamental part of its offering to brokers. Now employing 65 staff, Stride has come a long way in the last 40 years but its core values have remained the same. The company is built on the sound principles of investment in staff, expert industry knowledge and an unwavering commitment to service.
Richard Lovegrove, Managing Director of Stride Insurance Group, commented on the achievement of 40 years in business:
"Stride is built on firm foundations and we have never lost sight of putting the customer first. Stride has grown by fostering a culture of professionalism and building trust with our clients and customers. Business technologies may change as we move into a multichannel era, but our principles of service and fair dealings never will. Some say that life begins at 40, and for Stride Insurance Group the best is certainly yet to come. "
Stride Group's proposition to brokers in 2013 is stronger than ever, giving brokers the opportunity to earn attractive commissions from exclusive Property Owners schemes.
Having the stability and longevity to develop trusted partnerships with a wide range of major UK insurers, Stride is able to give brokers access to bespoke policy wordings and preferential rates for let and commercial property risks, with low excesses and no policy fees or agency commitments. This package, alongside the high standards of service that Stride is well known for, has been highly successful at attracting business from its larger rivals with more than 350 broker agencies agreed to date.
Commercial Manager Claire Harris says of the growth in broker business:
"Brokers demand quality service, exceptional rates and instant access to quotes. We have gone from strength to strength simply by listening to brokers and responding to their needs. I'm looking forward to welcoming existing clients and meeting new brokers at BIBA 2013 as we have a great deal to offer them."
Brokers can deal with Stride Insurance Group in any way that suits them - by phone, email or using the popular Stride Broker Portal, which gives direct access to comparison quotes for single let properties, portfolios of up to 5 properties and even blocks of flats. The Broker Portal is continually updated to meet brokers' needs and Stride has recently added additional functionality such that brokers can print branded policy documentation instantly for their clients. Future developments for 2013 include adding online quote processes for additional products such as Landlords Legal Expenses and Rent Guarantee insurance, Landlords Home Emergency cover and Tenants Contents insurance.
Brokers are invited to stand H5 to learn more about the benefits of an agency with Stride Group and try a delicious 40th anniversary birthday cake. The Stride Group Blackjack table offers everyone the chance to win, with special champagne prizes for hitting 40 with a bust hand.
Celebrate the success of a genuinely customer led business which has prospered by providing a level of service unmatched in the insurance industry, proving that old fashioned values and building strong and sustainable business relationships never go out of fashion. Let the party begin!
Notes to Editors
For further information on Stride Insurance Group Property Owners Insurance for brokers, call 023 9224 8790, visit: http://www.stride-group.co.uk/brokers
or email info(at)stride-group(dot)co.uk
Visit the Stride Insurance Group Linked In page:
http://www.linkedin.com/company/stride-insurance-group
and keep up to date with insurance market news and views on Twitter:
@stridegroup
Stride Insurance Group is an independent property insurance broker established on the South Coast since 1973, offering wholesale Property Owners Insurance to more than 300 brokers and agents throughout the UK. Stride Insurance Group provides brokers with bespoke cover for a wide range of commercial property such as blocks of flats, high value housing and let properties from a wide range of major UK insurers.
Stride Insurance Group has grown consistently by offering brokers competitive rates and instant comparison quotes online from the popular Stride Broker Portal, with no minimum agency support commitments and no fees.
Stride Insurance Group is part of Stride Limited, which also trades as Computer Quote Insurance, selling personal lines insurance by phone and online at http://www.computerquoteinsurance.com
Stride Limited has a total Gross Written Premium (GWP) of £20 Million annually and employs over 65 staff.
For more information on the Stride Insurance Group offer to brokers contact:
Claire Harris, Commercial Manager, Stride Insurance Group
claire.harris(at)stride-group(dot)co.uk
Tel 023 9224 8795
Mob 078 2434 6657
For more information on Stride Insurance Group contact:
Richard Lovegrove, Managing Director, Stride Insurance Group
richard.lovegrove(at)stride-group(dot)co.uk
Tel: 023 9224 8761
Mob: 077 3606 9151