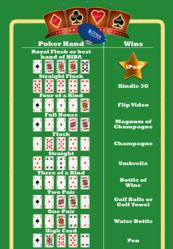 Stride believes in winning business by giving brokers the high quality cover they need to sell the policy to their customer and a quick response to quotes. Once they have experienced our service, we should not need contracts in place to support the agency
Denmead, Hampshire (PRWEB UK) 14 May 2012
Stride Insurance Group, one of the largest independent wholesale providers of Property Owners insurance to the UK broking market, returns to the BIBA conference and exhibition at Manchester Central this week after another year of strong growth and innovation.
As well as taking the opportunity to meet existing clients and announcing enhancements to its offer to brokers, Stride will be running an exciting poker game at stand B22: every hand wins a prize, but the best hand of the event wins an iPad2.
The best cards dealt so far will be on display for all comers to beat, so high rollers need to return to the stand over the course of the conference, which runs over Wednesday 16 and Thursday 17 May, to keep up to date with the winning hand.
The last 12 months have seen Stride add to its team of skilled staff with another 5 members hired to maintain the levels of service to brokers it is famous for, including the recruitment of experienced property insurance professional Gary Overton, to help develop business with brokers in the Midlands region.
More than 300 brokers now have an agency with Stride Insurance Group and benefit from attractive commissions; bespoke policy wordings; low excesses; an in-house claims team and no policy fees. There are no minimum commitments from brokers to support an agency, as Richard Lovegrove, Managing Director of Stride Insurance Group, explains:
"Stride believes in winning business by giving brokers the high quality cover they need to sell the policy to their customer and a quick response to quotes. Once they have experienced our service, we should not need contracts in place to support the agency. We succeed or fail on our service to brokers and if we're good enough the account will grow."
Commercial Manager Claire Wilson is looking forward to launching an enhanced version of the popular Stride Broker Portal at BIBA:
"As an independent with no ties, Stride Insurance Group has had to work very hard to become a major player in the wholesale Property Owners insurance market. Our investment in people and technology is paying off and the feedback from brokers is that they want access to instant quotes from a panel of insurers to be able to compare rates and cover for the clients. We're very pleased to be adding excellent cover and competitive rates from LV= to the our online portal and we're backing it up by adding more underwriters and fully trained support staff to deal with telephone enquiries from brokers."
Stride Insurance Group deals brokers the winning hand, so visit BIBA stand B22 to speak to the experts in Property Owners insurance…if you play your cards right, you could win an iPad!
Notes to Editors
For further information on Stride Insurance Group Property Owners Insurance for brokers, call 023 9224 8790, visit http://www.stride-group.co.uk/brokers or email info(at)stride-group.co.uk
Visit the Stride Insurance Group Linked In page and keep up to date with insurance market news and views on Twitter: @stridegroup
Stride Insurance Group is an independent property insurance broker established on the South Coast since 1973, offering wholesale Property Owners insurance to more than 300 brokers and agents throughout the UK. Stride Insurance Group provides brokers with bespoke cover for a wide range of commercial property such as blocks of flats, high value housing and let properties from a wide range of major UK insurers.
Stride Insurance Group has grown consistently by offering brokers competitive rates and instant comparison quotes online from the popular Stride Broker Portal, with no minimum agency support commitments and no fees.
Stride Insurance Group is part of Stride Limited, which also trades as Computer Quote Insurance, selling personal lines insurance by phone and online at http://www.computerquoteinsurance.com. Stride Limited has a total annual Gross Written Premium (GWP) of £16 Million and employs over 50 staff.
For more information on the Stride Insurance Group offer to brokers contact:
Claire Harris, Commercial Manager, Stride Insurance Group
claire.harris(at)stride-group.co.uk
Tel 023 9224 8795
Mob 078 2434 6657
For more information on Stride Insurance Group contact:
Richard Lovegrove, Managing Director, Stride Insurance Group
richard.lovegrove(at)stride-group.co.uk
Tel: 023 9224 8761
Mob: 077 3606 9151
Stride Insurance Group
Birch House
Parklands Business Park
Forest Road
Denmead
Hampshire
PO7 6XP
Registered in England No. 1122247.
Registered Office: 101 London Road, Cowplain Hampshire PO8 8XJ.
Stride Limited is authorised and regulated by the Financial Services Authority.