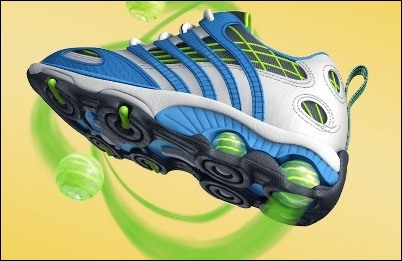 Life's Waiting. Let's Go.
Lexington, MA (PRWEB) November 15, 2006
stride rite®, the leading premium children's footwear brand, is launching in stores November 15th a new athletic line for fall 2006. The SuperBall® footwear line is the first ever to incorporate authentic SuperBall Zectron™ technology.
Dubbed "the most amazing ball ever created by science," the Wham-O® SuperBall® bounced into America's consciousness in summer 1965. Barely bigger than a cherry, this product was the fortunate accident of California chemist Norman Stingley, who in his spare time was experimenting with the effects of pressure on synthetic rubber.
As Stingley learned (to the delight of children everywhere), when you compress rubber under 3,500 pounds of pressure, you get a supercharged ball with unprecedented resilience. And thus was born Zectron technology and the now famous, "SuperBall" by Wham-O. Within six months, the company sold 7 million of these wacky, high-bouncing balls. Today, over forty years later, the SuperBall remains a popular toy for kids around the world.
So what could toy technology possibly teach us about shoes? A lot, as stride rite's footwear engineers happily discovered in their own lab. Turns out, the exact rubber that makes the SuperBall bounce so high gives kids the same "super" energy return upon heel impact.
Don't worry. Kids won't be bouncing off walls or leaping tall buildings in a single bound. What they will have is a high-tech action shoe that really puts a spring in their step: stride rite SuperBall shoes!
And it doesn't stop with the built-in SuperBall action. These shoes also feature highly responsive, multidirectional traction lugs on the sole to keep kids "on their feet" no matter how fast those feet are going. And speaking of speed, these shoes are built with a unique midsole that dramatically reduces weight and maximizes cushioning from heel to toe with each step (or leap!). The upper is constructed using "high-frequency" welding for lightweight durability. Finally, they are fashionable with three different styles: Lace, Hook & Loop and Z Strap so there is a fit for every foot. And with great color stories like silver /creamsicle for girls and royal/silver for boys, kids can have a SuperBall shoe to match every outfit.
"Shoes with Bounce" feature 11 unique styles for girls and boys, each with the original Wham-O SuperBall logo.
About The Stride Rite Corporation Children's Group, Inc.
The Stride Rite Children's Group, Inc., a division of The Stride Rite Corporation, markets the leading brand of premium children's footwear in the United States. For over 85 years, the company has designed and engineered footwear specifically to meet the needs of growing children. Stride Rite's mission is to encourage kids and support parents by developing and marketing products that help children embrace life's possibilities and adventures with confidence. The brand motto is "Life's Waiting. Let's Go."
The Stride Rite Corporation, headquartered in Lexington, Massachusetts, also markets other footwear products for children and adults under well-known brand names, including Keds®, Sperry Top-Sider®, Tommy Hilfiger®, Grasshoppers®, Munchkin®, PRO-Keds® and Born®. Information about the company is available on our website, http://www.strideritecorp.com. Information about the company's brands and product lines is available at http://www.striderite.com, http://www.keds.com and http://www.sperrytopsider.com.
About WHAM-O, INC.
Founded in 1948, WHAM-O is headquartered in Emeryville, California. WHAM-O's leading toy brands include classic toys such as: the Slip 'N Slide® water slide, Frisbee® flying discs, Hula Hoop® , and Super Ball®. WHAM-O's leading outdoor, water, surf and snow recreational brands include: the Original Frisbee Disc® flying disc for use in freestyle, ultimate and disc golf, the Hacky Sack® footbag, MOREY® Boogie® bodyboards, and BZ® PRO BOARDS™ bodyboards, CHURCHILL® swimfins, SNOW BOOGIE® and SLEDZ® snow sleds and Riva Sports® snowboards. WHAM-O designs and manufactures a core of more than 70 products that appeal to all ages, which are carried by virtually every toy, sporting goods and mass retailer in the world. For more information, visit http://www.wham-o.com or call toll free 1-888-WHAM-O-50 (1-888-942-6650
Contact:
Malinda Freitas,
Assistant Marketing Manager
stride rite children's group
617.824.6231
# # #