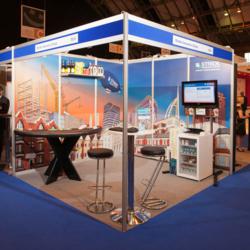 "We are delighted to add new staff to the broker support team, to concentrate on turning quotes around quickly for our customers and dealing with increased volume through our broker portal and liaising with our growing insurer panel"
Denmead, Hampshire (PRWEB UK) 2 November 2011
While the UK economy stalls, Stride Insurance Group has been going against the gloomy trend in 2011 and hiring new staff to meet the demands of its growing customer base. Stride arrives at Broker Expo, the trade show for the insurance broking business, as a major player in the UK property owners insurance market.
An independent wholesaler of insurance for all types of let and commercial property, Stride Insurance Group now sells to over 250 brokers and agents throughout the UK and has seen consistent growth this year, leading to 3 new staff starting in the last 3 months of 2011.
To give its brokers and agents access to a wider market for their property insurance risks, Stride has recently entered into agreements with LV and JR Clare to widen its insurance "footprint". These insurers will soon be offering instant quotes to users of Stride's popular broker portal, where brokers access comparative rates from a panel of major UK insurers, bind cover on-line and select from a wide range of supporting products such as tenant vetting services and landlords rent guarantee insurance.
Managing Director Richard Lovegrove says of the recent developments: "We are delighted to add new staff to the broker support team, to concentrate on turning quotes around quickly for our customers and dealing with increased volume through our broker portal and liaising with our growing insurer panel"
Broker Expo 2011 presents an ideal opportunity for Stride staff to meet broker principals and managers to explain Stride's offer of bespoke schemes, in house underwriting and claims and generous commission arrangements, as well as get feedback from brokers in person as to their needs and priorities and their preferred channel of doing business.
The event gives brokers the chance to find how Stride Insurance Group has established a strong reputation for prompt and professional service, and to see why it is growing against its larger competitors. It is also an opportunity to have a little fun, as Commercial Manager Claire Harris explains:
"It is not all business at Broker Expo and Stride is well known for having fun on its stand. This year we're inviting brokers to show off their skills on our PlayStation Move big screen playing great games such as Bug Swat. There are champagne prizes for hitting the high score at each game and we'll be tweeting the best performances and prize winners on our Twitter feed @stridegroup"
Finally the stand itself, a stunning hand drawn design by award winning Portsmouth artist Arran Mackintosh, will attract attention in its own right as it represents a move away from the safe corporate look typical at many trade events.
For more information about Stride Insurance Group's offer to brokers visit:
http://www.stride-group.co.uk/broker-agencies/
###