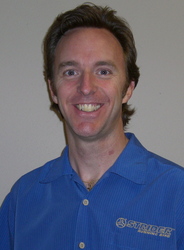 are now catching on in the United States
Rapid City, S.D. (Vocus) June 8, 2010
Kids who want to learn to bike earlier than ever are refining their balance and coordination on increasingly popular "PREbikes" sold by a South Dakota inventor.
A weekend feature on The Associated Press newswire by writer Dave Kolpack notes that training bikes, sometimes referred to as balance bikes or running bikes, "are now catching on in the United States" thanks to innovators such as Ryan McFarland, founder and chief enthusiast at Strider Sports International, maker of the Strider PREbike.
According to the AP, McFarland's PREbikes have proven so popular with tots and their parents that the Rapid City businessman expects to triple sales at his company this year. McFarland recently added staff to oversee burgeoning international sales.
Mastering a two-wheel bike, without training wheels, is a right of passage each summer for millions of American children. Now, thanks to McFarland and Strider PREbikes, tens of thousands of happy kids are learning to ride two-wheel bikes much earlier than most parents – and even experts – thought possible.
YouTube is chock full of videos showing toddlers as young as 18 months old PREbiking along with their older siblings and parents. Some videos even feature the youngsters navigating homemade obstacle courses. (To view the videos, go to http://www.youtube.com and enter "Strider Prebikes" in the search box.)
In addition to all the fun, McFarland's PREbikes also have a serious side. They have given confidence and independence to many thousands of special-needs children who can't yet master regular two-wheelers.
The AP notes that many of Strider's best marketers are satisfied moms and dads who act as independent distributors and sell mostly through social networking.
The newswire quotes Stacey Snover, who started a Strider dealership in 2008 in Portland, Ore. "Business is so good that she quit her job as a medical social worker in favor of selling the bikes full-time." Snover told the AP she alone expects to sell 2,500 PREbikes this year.
Another "mommy marketer" quoted by the AP is Annette Simmons of Teaneck, NJ, whose 3-year-old son Charlie is a Strider PREbike aficionado. "My best way to get the word out is Charlie in the park," she told the AP's reporter.
McFarland invented the PREbike for his then 2 ½ year old son, Bode. A passionate bike rider himself, McFarland wanted Bode to acquire the balance and coordination necessary for two-wheel biking but didn't think that tricycles or training wheels provide the safety he sought nor the sense of 'riding-like-the-big-kids.'
McFarland created the PREbike prototype in his garage. As the AP reports, McFarland began by purchasing the smallest and lightest bike he could find on the market. The inventor then sawed off the pedals, cut out the upper frame rails, lowered the seat, cut and re-welded the handlebars and cut down the seat-post. He also painted the bike to match the look of big-kid bikes.
The result is a sturdy, 7-pound marvel that features tires that never go flat and stays away from gears and other features that can pinch little fingers.
Children who start off on a Strider PREbike routinely advance to a regular, unaided two-wheeler at least 18-months to two years earlier than kids using training wheels, McFarland says.
"Everyone remembers his or her first solo bike ride," McFarland explained. "Our PREbike kids just remember that special moment a lot earlier than most."
For more information about Strider PREbikes or to locate a dealer or bike shop, visit the company's web site at http://www.stridersports.com.
Credentialed journalists who are interested in receiving a review PREbike or would like an interview with Ryan McFarland should contact Dean Rotbart for Strider Sports International at 310-492-5858 or email him. All Strider PREbikes used for reviews by journalists are donated to local children's charities.
###