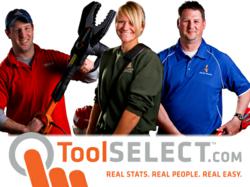 There's a lot of versatility here of what you can do with it, and it's a little bit more durable.
Grand Rapids, MI (PRWEB) November 30, 2012
The new Aero-Flex® Universal Kit was rated an impressive four-and-a-half stars out of five by unbiased ToolSelect tool tester Eric Nienhuis of Grace Adventures. ToolSelect uses unbiased tool testers to use a tool in actual field applications over a sufficient period of time, then share their unbiased opinions with the entire ToolSelect community.
Vince Morabit, inventor of Aero-Flex®, has been involved with string trimmers since the first models were introduced in the early 1970s. Over the past 15 years, Morabit has been researching and developing what are now the Aero-Flex® Line Blades.
Morabit knew the original string trimmers weren't engineered to be that way—it was a matter of convenience in combining fishing line with two-cycle engines. As lines broke and wore out, manufacturers worked to improve the line-feed systems. Morabit had another idea: create flexible blades specifically for string-trimming applications that will do a better job and last longer than traditional string.
The Aero-Flex® kit was designed with four strong line blades that generate less drag than a standard line, intending to reduce fuel use, noise, engine emissions and wear and tear on the trimmer and the operator.
Nienhuis noticed some of this first-hand. By looking at a fence post that been beaten up by a standard line over the years, he compared it to the way the Aero-Flex® blades flex as they cut, creating not only less wear on the fence post, but on the blades as well.
"The blades are shaped like a propeller blade with a sharp edge and a blunt edge," says Nienhuis. "If you're cutting grass, you want the sharp side forward. If you're going to be cutting thicker vegetation, put the blunt edge forward and it's going to last a little bit longer."
Two of the blades are bright yellow and the other two are bright orange. This was a deliberate design feature to make them more visible as they spin, giving the user more control and making it easier to avoid hitting plants and other objects.
The Aero-Flex® Universal Kit is meant for homeowners who currently use gas string trimmers. Nienhuis, who rated the kit a perfect five stars in both design and quality, recommends upgrading from a monofilament line to the Aero-Flex® kit.
Comparing the Aero-Flex® to a traditional line, Nienhuis says, "There's a lot of versatility here of what you can do with it, and it's a little bit more durable."
All tool testers with ToolSelect.com are given a tool (either furnished by the manufacturer or ToolSelect) for a period of time long enough to get an accurate assessment of the pros and cons of the tool. The testers do not receive any monetary compensation from ToolSelect nor the manufacturer of the tool. As such, every tool review on ToolSelectTV is unbiased and genuine.
About ToolSelect
ToolSelect is an unbiased community powered by its members that covers all aspects, types and brands of tools, but does not actually sell any tools. ToolSelect's members include everyone from experienced tradesmen to complete novices. Users trade tips, compare notes, debate their favorite tools and work together to help each other make intelligent purchasing decisions.
Like ToolSelect on Facebook (ToolSelect)
Subscribe to ToolSelect on YouTube (toolselecttv)
Follow ToolSelect on Twitter (toolselectmedia)