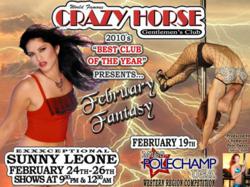 San Francisco, CA (Vocus/PRWEB) February 16, 2011
Over $15,000 in cash and prizes is up for grabs at the Western Region Miss Pole Champ completion being produced by adult film star and former Pole Champion Nakita Kash on Saturday, February 19, 2011. The event will be held at Crazy Horse San Francisco Gentlemen's Club located at 980 Market Street in San Francisco.
Contestants must perform for at least three of the five minutes. They are awarded up to 50 points for execution, transitions, originality, originality, difficulty, flexibility, and sex appeal of pole tricks; up to 30 points for their appearance: costume, hair, makeup, body, and sensuality; and up to 20 points will be for overall performance.
For more information about the Western Regional Competition on February 19, 2011 at Crazy Horse or any of their other shows, call them at (415) 658-9324, http://www.adultentertainmentbayarea.com, or come by the club located at 980 Market Street in San Francisco.
About Crazy Horse
Crazy Horse is a gentlemen's club that specializes in adult entertainment and bachelor parties in San Francisco.
About Nakita Kash
Nakita Kash entered the world of adult entertainment via Déjà vu in Minneapolis, Minnesota is 1994. After entering and winning several of their Polympics and Showgirl of the Year competitions, Kash went on to compete nationally and succeeded in winning a total of 24 titles in competitions such as Miss Nude Galaxy Go-Go, Miss Nude Brunette World International, and Erotic Adult Entertainer of the Year.
In1997 Kash toured the country as a headline feature where she met Michael Raven, who recruited Kash into the world of adult movies. In addition to ongoing performances in adult films, Kash was recently recruited by the Continental Theatrical Agency to head their Feature Dance School.
###