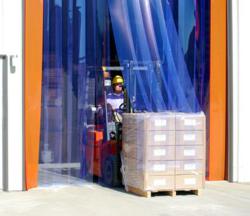 A Plus Warehouse Keeps The Ordering Process Simple For Our Awesome Customers
Dallas,TX (PRWEB) November 29, 2012
Strip doors are in great demand year round, but winter is strip door buying season. This buying season, A Plus Warehouse wants customers to know that they stock an unimaginable range of strip doors and vinyl strip material for industrial and food service use. Some dealers make the ordering process difficult by providing data that customers simply don't need and don't want. According to Ed Stairman "Strip doors are simple devices A Plus Warehouse will keep the ordering process simple for our awesome customers."
Think about it for a moment. Should customers need to determine how many strips of what width would be required for any given percentage overlap. Should customers also know what the overlap should be and the thickness of material? These are the very questions that many dealers make customers answer in order to buy a few simple strip doors! A Plus Warehouse keeps it simple by selling vinyl strip doors by type of application.
(1) Personnel Strip Doors – These doors are provided with 33 to 50% overlap and are typically 6 in x080. Personnel strip doors need to be light so that employees aren't knocked around by heavy strips. Grocery stores use these in produce aisles as well.
(2) Forklift Strip Doors – These strip doors need to be more robust. A forklift would destroy a personnel door. Forklift strip doors can be 8 in x 080 up to 12 in x .120 thickness depending on the size. The neat thing about size and thickness determination is that A Plus Warehouse already has each size pre-engineered!
(3) Heavy Wind Strip Doors – These strip doors are like forklift strip doors , but are always thicker – so the wind won't move the strips so easily
Beyond those three types of strip doors, A Plus Warehouse also offers delivery truck strip doors, insect barriers, and bulk rolls of strip material. Mounting hardware is universal for most major manufacturer, so A Plus Warehouse made installation a snap. Strip material has holes punched just where the strips mount, and the strips are perforated based on the door height. A customer simply bolts the header to a wall, then easily rips off strips from the roll and places them on knobs.
A Plus Warehouse is excited about their new and improved strip doors offered and stands ready to help with any strip door quotation. A Plus Warehouse is a nationwide materials handling dealer offering the best in strip doors. Call A Plus Warehouse at 800-209-8798 to experience the A Plus Warehouse difference