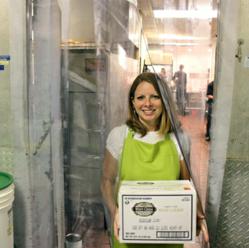 Customers will be amazed by the great variety of strip doors
Boston,Ma (PRWEB) July 27, 2012
A Plus Warehouse is proud to offer new lines of strip doors. According to Ed Stairman,President of A Plus Warehouse, " Customers will be amazed by the great variety of strip doors we now offer." A Plus Warehouse has the right strip door for any situation.
Personnel Strip Doors are a new line from A Plus Warehouse. These Personnel Strip Doors are excellent for people to walk though. Having Personnel Strip Doors in a place where there will be much foot traffic is great because the strip doors will minimize dust and other airborne problems. The temperature of the strips also ranges from negative 10 to 150 degrees Fahrenheit. Low Temperature Strip Doors are also available. They go from negative 40 to 150 degrees Fahrenheit.
Delivery Truck Strip doors is yet another new line from A Plus Warehouse. Having Delivery Truck Strip Doors will save money. This is due to the fact that the strip door prevents 80 to 90 percent of air loss. This prevents spoilage by maintaining temperature. Like Personnel Strip Doors, the strips also range from negative 10 to 150 degrees Fahrenheit and are available in low temperature.
The Pet Shield Insect Barriers line goal is to keep bugs out. Keep bugs out of a facility will keep the facility sanitary. However, if a company is keeping a bug observatory, then one of these strip doors might be nice to keep the bugs in. The best part is this type of strip doors are extremely easy to assemble and are high quality. They also come in 50 percent or 100 percent overlap. 50 percent is best for a standard application and 100 percent is best for heavy duty use.
Bulk Rolls of Strip Door material is commonly used for existing strip door installations. This item is in stock for many different sizes. Best of all it comes pre-cut and perforated! This item is used for both light traffic and heavy application. The standard smooth is for light traffic and the Durarib is for heavier applications. These strips are also available in low temperature.
The Forklift Strip Door is yet another new product at A Plus Warehouse. It is designed for forklift use. It is provided with heavy duty mounting software. For very heavy traffic Durarib is offered for 10 percent additional. Anti-Insect feature is also available for 35 percent additional. It also comes with orange safety strips on the ends for free. It is a great product.
A Plus Warehouse is proud to offer High Wind Strip Doors. Not many distributors offer this product. These are made specifically for high wind environments and are heavy duty for fork lift use. The strips are also available in low temperature for an additional 22 percent.
All of A Plus Warehouse Strip Doors are great. The A Plus Warehouse team is proud to offer these new products. A Plus Warehouse is a company that is always quick to ship and truly cares about their customers. The entire A Plus Warehouse staff is ready to help with whatever strip door and material handling application.