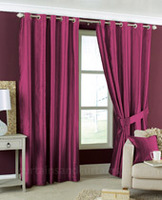 curtain prices of the new collections are lower
(PRWeb UK) April 5, 2011
Spring Launch is a yearly program held by Curtains & Curtains UK which showcases the latest curtains collection for spring and summer.
Manika Shah, Director of Curtains & Curtains UK opened the ceremony with the following words, "We have seen a significant rise in sales for ready made curtains this year and we have invested in far more designs than before. The winter launch saw very few products due to the problems with manufacturing in China, but this year we have more than compensated for it. As an improvement to customer service it is important that we offer our customer a simpler method of purchasing their curtains so we are classifying designs for specific areas of the home, such as bedroom curtains with matching duvet covers or living room curtains in heavy chenille and faux silk. I am also pleased to say that we have introduced a new range of faux silk curtains to replace the existing range to cater for a more contemporary décor."
Looking at the new collection online, it seems Curtains & Curtains UK are keeping up with the latest trends. Striped curtains seem to be quite popular this year, with vintage floral curtain and bedding sets making a comeback. One important point of note mentioned by Manika during the interview is that curtain prices of the new collections are lower due to innovations in the manufacturing process. This should certainly offer better value for their customers.
Furthermore during the interview Manika mentioned that they have introduced extra long curtains in more ranges than ever before, in an effort to target window furnishings for city apartments where long windows are a rising trend.
To view the new spring collections kindly visit the website at curtainsandcurtains.com.
###