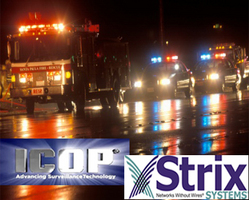 We chose to partner with ICOP for a number of important reasons including its established market presence within law enforcement, its vision for community-wide surveillance and security and its best of class surveillance products and solutions
Lenexa, KS, and Calabasas, Calif. (PRWEB) October 8, 2007
ICOP Digital, Inc. (Nasdaq: ICOP), an industry-leading company engaged in advancing digital surveillance solutions, and Strix Systems, the leader in high-performance wireless mesh networking, today jointly announced the formation of a co-marketing partnership and integrated video surveillance mobility solution enabling the companies to collaborate on pursuing mutually beneficial sales opportunities on a global basis for their advanced surveillance and wireless mesh networking solutions, respectively.
"We chose to partner with ICOP for a number of important reasons including its established market presence within law enforcement, its vision for community-wide surveillance and security and its best of class surveillance products and solutions," stated Bruce Brown, Chairman and CEO of Strix Systems, Inc. "ICOP and Strix each share the same commitment for empowering communities with real-time, multimedia, mission-critical communications and situational awareness. Collaborating on our respective marketing efforts will compound our collective success."
Strix Systems is the worldwide industry leader in carrier-class wireless mesh networks noted for offering the highest performance and greatest flexibility for the lowest total cost of ownership. Strix's Access/One® wireless mesh products enable the quick deployment of network infrastructure to deliver reliable, resilient, self-configuring high-speed voice, video and data services for real-time multimedia, mission-critical communications and situational awareness for agencies and first responders. The Access/One products are ideal for a wide range of solutions including: security, surveillance, asset tracking applications, voice and video convergence, extended IT network infrastructure, emergency services, transportation systems and mobile connectivity. Its carrier grade performance enables deployments for city-wide metropolitan, country-wide infrastructure, public safety, state and federal government applications, transportation systems, harbors and ports, airports, corporate enterprise, hospitals, hotels and apartment complexes, universities and schools, hot-spots and hot-zones, as well as large scale service provider deployments to residential and business market.
In August 2007, Strix certified ICOP products -- the ICOP Model 20/20-W™ and the ICOP Guardian™ stationary IP camera -- as "Wireless Mesh Ready" and interoperable with Strix Access/One products. All products certified by Strix must meet key criteria to support Strix's native high throughput, low latency and failover characteristics and will work together with all other certified and interoperable equipment.
"The underpinning value of the ICOP Solution™ is enabling community leaders and first responders with the ability to access and benefit from real-time, situational awareness of any crisis or crime-in-progress. Partnering with the world's leader in wireless mesh networking provides ICOP with yet another important arrow in our quiver, helping us to provide communities with a cost effective wireless alternative for rapidly deploying essential public safety networks capable of supporting our solutions," stated Dave Owen, Chairman and CEO of ICOP.
About Strix Systems:
Strix Systems is the worldwide leader in wireless mesh networking. Strix's Access/One products are the industry's only modular (chassis-based) mesh systems, delivering the largest capacity, highest throughput and best scalability. This new generation of products provides the broadband mobility and reach to support voice, video, and data applications. Sold globally by a network of first-class distributors and integrators, Access/One solutions have been deployed in hundreds of networks worldwide, outdoor and indoor, for service providers, metros, public safety, government, energy, transportation, hospitality, education, enterprises and residential markets. See Strix latest public safety, municipal and railway video case study at http://www.strixsystems.com/video/missioncritical.html. For more information about Strix Systems, Strix Technology Partner Certification and Strix Premier Solution Partners please visit http://www.strixsystems.com, http://www.strixsystems.com/certification/default.asp, http://www.strixsystems.com/case-studies/solutionspotlight.asp
About ICOP Digital, Inc.:
ICOP Digital, Inc. protects people, assets and profits, providing a Veil of Protection™ for our nation's communities with innovative, mission-critical security, surveillance and communication solutions. The Company engineers, manufactures and markets mobile and stationary surveillance products for use in the public and private sectors, and facilitates the delivery of live video to first responders. The ICOP MODEL 20/20®-W, ICOP's flagship product, is the leading digital in-car video recorder system for law enforcement. The ICOP Guardian™ is a stationary IP camera that records high quality video images on a local server, and is capable of activation through several triggers. ICOP LIVE™ delivers live streaming video to and from first responder vehicles and headquarters, empowering first responders with enhanced situational awareness, helping to optimize the outcome of a crisis. (GSA Contractor) For more information, please view the following video presentations at http://www.icopdigital.com/why_icop.html and http://www.ICOP.com/veil.html, or visit http://www.ICOP.com.
Safe Harbor Statement:
This document contains forward-looking statements within the meaning of Section 27A of the Securities Act of 1933, as amended, and Section 21E of the Securities Exchange Act of 1934, as amended. Such statements are subject to risks and uncertainties that could cause actual results to vary materially from those projected in the forward-looking statements. The Company may experience significant fluctuations in future operating results due to a number of economic, competitive, and other factors, including, among other things, our reliance on third-party manufacturers and suppliers, government agency budgetary and political constraints, new or increased competition, changes in market demand, and the performance or reliability of our products. These factors and others could cause operating results to vary significantly from those in prior periods, and those projected in forward-looking statements. Additional information with respect to these and other factors, which could materially affect the company and its operations, are included in certain forms the Company has filed with the Securities and Exchange Commission.
###