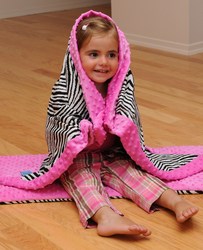 Our stroller liners are universal, and will fit almost any stroller on the market today, be it Bugaboo, Maclaren, Peg Perego or Graco
New York (PRWEB) July 30, 2008
New York based Tivoli Couture Inc., maker of luxury Stroller Liners, coordinated blankets, patent-pending Bibs and Cuddle Bottle Blankets™, Tooth Fairy Pillows and other baby and toddler accessories announced today the debut of its first collection at the upcoming ENK Children's Club Show August 3-5 in New York and the ABC Kids Expo in Las Vegas, NV on September 7-11.
Designed by mom for parents and grandparents demanding functional, yet attractive baby products, Tivoli Couture's line delivers quality, innovation and luxury goods at desirable price points.
"We created stylish and practical products that fuse basic and luxury items for babies and kids," said founder and CEO Stella Rubinshteyn. "The colors and prints we chose are bright and vivid to stimulate baby's senses and promote happiness. Ready to gift, our coordinated sets make Tivoli Couture's line a step above the rest," continued Stella Rubinshteyn. Tivoli Couture's line provides not only style, functionality and reversible designs, but also comfort, safety, sophistication and durability.
Some of the staple products to debut at the upcoming shows that are already gaining popularity and generating frequent re-orders from local boutiques are infant and toddler bibs, Bandana Binky Bibs™ which are a stylish alternative to the traditional bibs and offer a removable attachment that keeps the baby's binky or teething toys within reach; reversible stroller liners that are meant to protect strollers from diaper leaks, spilled juice and crumbs. With prices of strollers easily rising to $1,000 and above, Tivoli Couture designed a line of comfy stroller liners that will protect the parent's investment while offering their little ones a luxury ride. Parents can choose from the reversible fiberfill stroller liners with a 100% cotton side that reverses to a textured cuddly minky back or the Memory Foam liners with a 100% cotton cover and a removable insert. "Our stroller liners are universal, and will fit almost any stroller on the market today, be it Bugaboo, Maclaren, Peg Perego or Graco," adds Stella Rubinshteyn. To complete the look, the company designed blankets with matching prints and baby's much loved Cuddle Bubble Minky fabric.
Another unique item Tivoli Couture is proud to introduce is the Cuddle Bottle Blanket™. Simply said it's a sleeve cover for a baby bottle designed with a signature Cuddle Bubble Minky fabric and colorful themed tags babies love to play with. Textured Cuddle Bubble Minky will sooth and comfort the baby, where the colorful themed tags will stimulate and entertain baby's senses while exploring colorful tags. The Cuddle Bottle Blanket™ is available in two sizes to fit wider bottles like Avent and Born Free and slimmer ones like Evenflo, Gerber and Dr. Brown's. The Cuddle Bottle Blanket™ also works as an insulator and helps keep the liquids warm longer.
About Tivoli Couture, Inc.
Tivoli Couture is a fashion forward gift and apparel company dedicated to creating innovative and functional baby products for discriminating parents demanding quality, attractiveness, ingenuity and function. Individually hand picked 100% cotton fabric with retro and contemporary prints and super cuddly plush, sherpa and signature textured Cuddle Bubble minky combined with stylish modern designs and fun colors make baby basics simply spectacular! All products are machine washable and are cut and sewn in the USA.
About the Founder:
Love of fabric and fashion combined with a business background and strong entrepreneurial skills fueled the creation of Tivoli Couture by the founder, Stella Rubinshteyn. Tivoli, (also read as 'i lov it' backwards), is a beautiful town near Rome, Italy, that Stella Rubinshteyn traveled to as a young child. Years later Stella grew up, has a loving family of her own and now resides in a beautiful house on Tivoli Court in New Jersey. Inspired by her destiny, and by the ancient Tivoli villas and castles she visited as a child, is what influenced Stella Rubinshteyn to name her company Tivoli Couture.
Tivoli Couture line is available through high end boutiques and the company website http://www.TivoliCouture.com
If you would like high resolution images for print, samples for review, or to interview Stella Rubinshteyn, please contact her at (646) 591-4883 or media@tivolicouture.com.
###