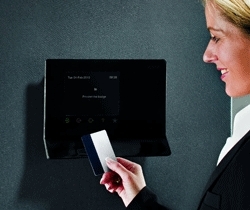 We have heard from Stromberg users throughout the country looking for an alternative vendor to support their time and attendance systems
Mequon, WI (Vocus) March 18, 2010
Specialty Systems and Equipment, a division of Data Financial, Inc., has announced expanded support for Stromberg time and attendance hardware and software products. In response to the November, 2009 acquisition of Stromberg by Kronos, Inc., Specialty Systems & Equipment has added staff and company resources to meet the support needs of current Stromberg users throughout the United States. The company has released special pricing for all levels of service and hardware support.
"We have heard from Stromberg users throughout the country looking for an alternative vendor to support their time and attendance systems," according to Jon Tarcin, General Manager of Specialty Systems & Equipment. "We have been closely aligned to this product for nearly 30 years and are able to step in and offer excellent support. We know many Stromberg users are being asked to make decisions about their time and attendance systems, sometimes costly, and we are prepared to resolve these issues," according to Tarcin.
Support packages being offered to Stromberg users include fixed cost implementation and training, 30-day courtesy software support for prospective customers, extended service agreements, and discounts on all Stromberg hardware products. The company offers two hour guaranteed support response with technical staff available daily, including weekends.
Specialty Systems & Equipment technical staff provides consultation, system design, implementation, and migration options for other products. In addition to a technical support help desk accessible via toll free phone service and internet, the company offers on-site support throughout the nation. Time clock hardware support is offered on all product lines, including biometrics.
Stromberg has historically been an innovator and premier supplier in the time and attendance industry. Software and hardware used by Stromberg customers have been highly regarded in the industry and are widely used in manufacturing, health care, education and distribution. "This is truly an outstanding product line," said Tarcin, "We believe all customers should have the opportunity to continue to benefit from the rich and time-tested Stromberg features."
About Specialty Systems & Equipment, a division of Data Financial, Inc.
Acquired by Data Financial, Inc. in 2003, Specialty Systems and Equipment has provided Stromberg and workforce related products since 1963. From integrated time and attendance products for workforce scheduling and system design, to custom program applications and maintenance support, Specialty Systems delivers complete time keeping products and automated payroll solutions. For more information please visit Specialty Systems and Equipment.
###