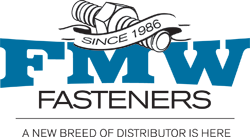 Houston, TX (PRWEB) August 06, 2012
The STRONG-BOLT® 2 wedge anchor is the next-generation solution for cracked and uncracked concrete. Following rigorous testing according to ICC-ES acceptance criteria, the Strong-Bolt® 2 anchor received classification as a Category 1 anchor, the highest attainable anchor category for performance in cracked concrete under static and seismic loading. Available in stainless steel, it is code-listed by ICC-ES under the 2009 IBC requirements for post-installed anchors in cracked and uncracked concrete.
Available in the popular 3/8" diameter, the STRONG-BOLT® 2 anchor is ideal for MEP applications in cracked concrete, such as hanging pipes, struts, equipment anchorage and other fixtures overhead. The anchor is also effective for lightweight- concrete applications, including concrete-over-metal decking.
FMW Fasteners also offers free shipping on orders over $25.00 and flat rate $5.00 shipping on orders under $25.00.
For more than 50 years, Simpson Strong-Tie has focused on creating structural products that help people build safer and stronger homes and buildings. Considered a leader in structural systems research, testing and innovation, Simpson Strong-Tie is one of the largest suppliers of structural building products in the world.
FMW Fasteners is an online provider of anchor products, nuts, bolts, socket products and screws. Founded in 1986 in Houston, Texas, FMW Fasteners stocks premium products by Brighton-Best, Simpson Strong-Tie Anchor Systems, ITW Buildex, Intercorp, Toggler® Anchor Systems, FastenMaster and many more. For more information, visit http://www.fmwfasteners.com or follow FMW Fasteners for updates and promotions on Twitter, Google+ and Facebook.