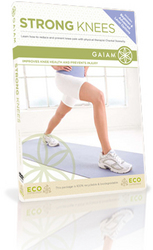 I treat many knee pain patients in my physical therapy practice and saw the need for a comprehensive, easy format to provide knee pain sufferers relief
Los Angeles, CA (PRWEB) December 3, 2008
Body Insight Inc., a company devoted to injury prevention through exercise, has created the first of its kind Exercise DVD for people with knee pain. The Strong Knees DVD, hosted by physical therapist Chantal Donnelly, is distributed by the lifestyle company GAIAM - and the December 2008 release of this Knee Pain Relief DVD is perfect for the gift giving season.
"I treat many knee pain patients in my physical therapy practice and saw the need for a comprehensive, easy format to provide knee pain sufferers relief," states Chantal Donnelly, the founder of Body Insight, Inc.
The Strong Knees DVD - the first exercise video of its kind, offers a research-based stretching and strengthening program to relieve and prevent knee pain - teaching both the active and sedentary Baby Boomer how to strengthen and stretch their way to pain-free knees. Strong Knees includes exercises for all fitness levels and has a 7-minute abridged workout for the busiest of individuals. This knee pain relief DVD also gives the viewer the ability to design their own exercise prescription based on their fitness level.
"According to the American Academy of Orthopedic Surgeons, knee arthritis is the single greatest cause of chronic disability among adults age 65 and older in the U.S," continued Donnelly. "I'm thrilled that the Strong Knees DVD is now available to knee pain sufferers everywhere!"
For more information and to purchase the Strong Knees DVD:
Visit: http://www.bodyinsight101.com/store.html
Call: 213.215.6778
Contact: Chantal Donnelly @ Body Insight, Inc.
The Strong Knees DVD is also available on Amazon.com or in retail stores, including Barnes and Noble and Borders.
About Chantal Donnelly:
Chantal Donnelly MPT, a faculty member and research advisor at Mount St. Mary's College in Los Angeles, has been featured in various magazines including the January 2009 issue of Woman's Day Magazine. Chantal designed the Strong Knees exercise program in order to give people a healthy solution to chronic knee pain.
About Body Insight, Inc:
Body Insight's mission is to produce high-quality products that will give people the tools they need to take care of themselves. Injury prevention through exercise is the wave of the future for fitness. By providing research-based information in a simple yet sophisticated format, Body Insight Inc. is a trail blazer down this new fitness path.
###