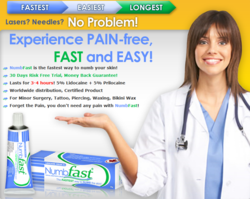 "Since its inception, NumbFast.com is one of the fastest growing topical anesthetic numbing cream company"
Los Angeles, CA (PRWEB) May 16, 2011
NumbFast Inc., one of the largest manufacturers of topical numbing cream , has announced its expansion to the US market in 2011. Reports suggest a significant increase in demand for numbing cream from US market.
John Michael, tattoo artist from Los Angeles, has been a fan of NumbFast topical anaesthetic cream since its introduction to the public in 2007. "NumbFast topical anaesthetic numbing cream is an amazing product! Within 30 minutes of application to the skin, I did not feel anything. It was definitely helpful when I was getting tattooed on my rib cage, known to be the most painful procedure."
There are thousands of people who have minor procedures that involve topical pain, often for beauty and cosmetic purposes. Popular painful cosmetic procedures are tattoos, laser hair removal, tattoo removal, bikini wax, and piercing. It is reported that, compared to the last few years, the demand for topical numbing cream has been grown almost tenfold.
The numbing products on the market are in high demand from various consumers. For instance, bikini waxing is a big market, reported by NumbFast Inc. During summertime, bikini waxing customers are becoming more familiar with Numbfast numbing cream.
Fear of needles, often referred to in the literature as "needle phobia" or "blood-injury phobia," is a specific phobia with distinct clinical features; NumbFast Inc. also supported these patients.
From the survey done in 2011 by NumbFast Inc., there was roughly 49% higher demand from commercial buyers from 2010. Significant numbers of orders were being placed over the net since overnight deliveries were serviced to the consumers. Out of 10 customers in the tattoo stores, it is also reported from the business owners that more than 50% of customers wanted strongest numbing cream like NumbFast - roughly 80% of these customers brought the numbing cream before their procedure.
The outlook is bright for NumbFast Inc. Since the beginning of 2011, the revenue tripled between 1st quarter and the 2nd quarter. Topical Pain in this century can be avoided..
NumbFast Inc. is a certified product manufactured from Canada and distributed to different countries. The product contains 5% active ingredient of lidocaine and prilocaine. The numbing effect is known to work at rapid speed within 30 minutes and its effect lasting for more than 3 hours.
###